1988 Happy Holiday Barbie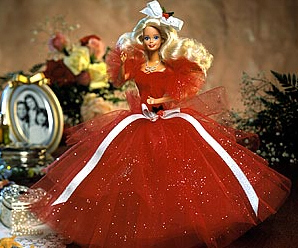 1988 Happy Holiday Barbie is a very significant doll in Barbie's history and many Barbie collectors will eventually aspire to have her in their own collection.  This considered to be the first "Collectible Barbie", although it wasn't originally planned that way.   When this doll hit the market, it sold out rapidly and almost immediately began to command big prices on the secondary market.  Based on the popularity of that doll, Mattel realized there was a huge market for Barbie Dolls for adult collectors and they began to make more and more dolls for that market. 
Despite that, the values for this doll (as well as many/most) on the secondary market have fallen significantly over the last ten or so years.
The doll is the typical "1966 Barbie" with tons of big blonde hair and the superstar face.  Her holiday gown is made of red tulle accented glitter and a white satin bow. at the waist. Her has a big silver bow in her hair.
  In 1996 Hallmark issued the 1988 Holiday Barbie Ornament as a Collector's Club exclusive.
---
---
You might also like: