Home

›
Mod Barbies

›
Stacey
Vintage Stacey Dolls
Stacey Dolls were introduced in 1968, as Barbie's new "cool" Mod friend. She hailed from the Mod Mecca of hipness - Great Britian. There were two versions - TNT (Twist 'n Turn) and Talking Stacey. Between 1968 and 1971, there were three different TNT Stacey versions and two different Talking Staceys. She was permanently retired after 1971.
After Vintage Barbie Dolls, Stacey remains among the most popular and desired dolls among collectors. This along with the fact that each version was produced for only one to two years and therefore harder to find than other dolls, makes her one of the more valuable dolls to acquire.
Through the years, Stacey had three different hairstyles - the TNT version had a long ponytail in 1968 and a short bob from 1969 to 1971. Talking Stacey had a side ponytail.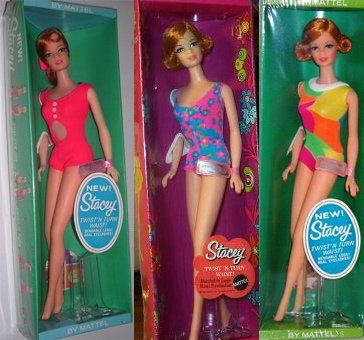 TNT Stacey
TNT Stacey had two different hairstyles and three different swimsuits. For more details - TNT Stacey Doll
Talking Stacey
Talking Stacey had a side ponytail and two different swimsuits. For more details - Talking Stacey
Stacey Gift Sets
There were two different gift sets produced.  Both were Sear's Exclusive Sets that included a TNT Stacey and an ensemble with a Stacey tag.
Stripes Are Happenin'
Gift Set 
The first set from 1968
For more details - Stripes Are Happening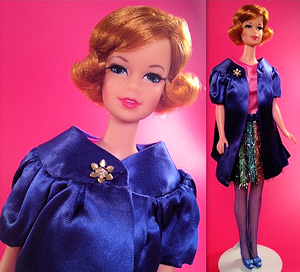 Night Lightning Gift Set 
From 1969
For more details - Stacey Nite Lightning
Night Lightning Reproduction 
 In 2006 Mattel released a Nite Lightning Reproduction
Stacey Cases
Stacey appeared on these four different cases: 
Single Case
Features a redhead ("Copper Penny") doll in a plaid dress with a mod border.  (The dress is actually a Francie Dress called Mini-Chex!)
Double Barbie & Stacey Case
Features the same Stacey as above along with a Blonde TNT Barbie wearing Swirly Cue
Barbie & Stacey Sleep & Keep Case
There were two versions.  The one pictured on the right, along with the inside of the case is much harder to find.
Here are the current listings:

---
You might also like: