Home

›
Mod Barbies

›
Julia
Julia Barbie Doll
The Julia Barbie Doll was one of the first Celebrity Barbie Dolls. It was introduced in 1969 along with Truly Scrumptious, from the movie Chitty Chitty Bang Bang.

Julia was a hit TV show that ran from 1968 to 1971. Diahann Carroll played Julia Baker, a widowed single Mom and Registered Nurse.  This was a ground breaking role because it was one of the first prime time shows to feature an African American woman in a "non-stereotypical" role.  Diahann Carroll won a Golden Globe for her role as Julia.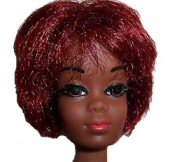 The Julia Doll had a Barbie Body and used the Christie Doll Head. There were two Julia Dolls made, TNT Julia and Talking Julia. Julia had dark brown/black hair, but many are found with a reddish brown to red hair color due to oxidation through the years. Dolls that retain their original hair color are more valuable.

In addition to being able to wear all the Barbie size fashions, Julia had 5 of her own outfits, one of which was included in a Julia Doll Gift Set. All of them had a Julia Tag. Mattel issued a Julia Doll Reproduction in 2009 as part of Barbie's 50th Anniversary celebration.
Julia Barbie Dolls
Julia Clothing
Julia Giftset
Simply Wow Julia Doll Gift Set was a 1969 Sears Exclusive and included a Talking Julia and the Simply Wow Ensemble.
---
You might also like:
Here are the current ebay listings:
---