Home

›
Vintage Barbie Dolls

›
Midge
Vintage Midge Dolls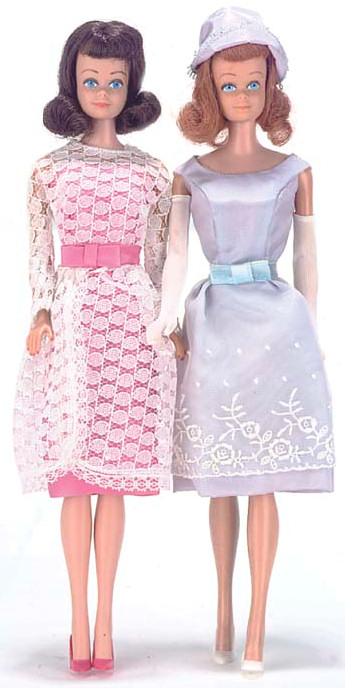 Vintage Midge Dolls were introduced in 1962 as Barbie's best friend.  She has the same body as Barbie, with identical markings and went through the same transformations.
With her introduction, her name was added to all Barbie bodies, so the bodies for both dolls read:
Midge T.M.
©1962
Barbie®
©1958
This causes a lot of confusion - as many people think their Barbie doll is a Midge.  It all depends on the head!
Allan was introduced in 1964 as Midge's Boyfriend and Ken's best friend.
Only three versions of Midge were manufactured, she disappeared in the Mod era and was replaced by more mod dolls - Stacey and PJ.  (PJ replaced Midge - they had the same face sculpt.)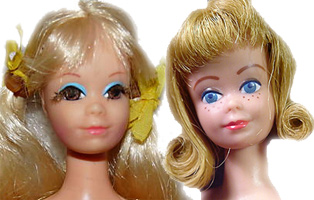 Mattel used the Midge name again beginning in 1987 and made Midge dolls through the late 1980s and 1990s.
Vintage Midge Dolls
Vintage Straight Leg Midge Doll (1963 - 1966)
Vintage Bendable Leg Midge (1965)
Reproductions
In 1997, Mattel issued a 35th Anniversary Vintage Midge Doll Reproduction Gift Set as a Toys R Us exclusive.
Campus Sweet Shop Giftset in 2008 with Midge and Alan Reproductions
---
Here are the current listings:

---
You might also like: