Vintage Barbie 1963 - 1964
Vintage Barbie 1963-1964- Dolls & Fashions
In 1963 Barbie's best friend Midge arrived. The two shared a beautiful wardrobe with seventeen new outfits and twenty carried over from previous years. There were lots of new Fashion Packs as well. 

Fashion Queen Barbie, with three interchangeable wigs, was inspired by the popularity of wigs in fashion.
1964 was a great year for Barbie! Her best friend Midge, got a cute boyfriend, Alan. Barbie also got a new little sister, Skipper. 
Miss Barbie was the first Barbie with bendable legs. Her eyes also opened and closed and like Fashion Queen, she had "interchangeable" hair.
Barbie and Midge got many new glamorous outfits in 1964, the most notable were the wonderful Travel and Theatre series of costumes. They were very elaborate and are highly collectible today.   The glamorous Swirl Ponytail Barbie was also introduced in 1964.
Also the 1600 series, representing some of the most elegant, popular and valuable ensembles debuted in 1964.  Many of the ensembles in 1964 were issued for one year only, making them among some of the hardest pieces to find.
1963
(Go to Vintage Barbie 1963 for a list of 1963 Ensembles with thumbnail pictures)
Barbie Dolls - Ponytail 
Bubblecut 
Fashion Queen 
Midge
Ensembles (click on link to see ensemble details)
Barbie Baby-Sits #953 (1963-1964) 
Bride's Dream #947 (1963-1964) 
Busy Morning #956 (1963) 
Career Girl #954 (1963-1964) 
Dinner At Eight #946 (1963-1964) 
Fancy Free #943 (1963-1964) 
Golden Elegance #992 (1963) 
Graduation #945 (1963-1964) 
Knitting Pretty (Royal Blue) #957 (1963) 
Masquerade #944 (1963-1964) 
Orange Blossom #987 (1963-1964) 
Party Date #958 (1963) 
Rain Coat #949 (1963) 
Senior Prom #951 (1963-1964) 
Ski Queen #948 (1963-1964) 
Sophisticated Lady #993 (1963-1964) 
Swingin' Easy #955 (1963) 
Theatre Date #959 (1963) 

Fashion Pak Items: 
Fur Hat and Bag (1963)
Knit Mix & Match Group Fashion Pak Item (1963) 
Knit Accessories 
Knit Dress 
Knit Long Skirt 
Knit Short Skirt 
Knit Slacks 
Knit Top 
Knit Top & Shorts 
Lame Sheath (1963)
Satin Mix & Match Group Fashion Pak Item (1963) 
Satin Bolero & Pillbox Hat 
Satin Blouse 
Satin Coat 
Satin Long, Full Skirt 
Satin Slacks 
Satin Wrap Skirt 
Square Neck Sweater (1963)
---
1964
(Go to Vintage Barbie 1964 for a list of 1964 Ensembles with thumbnail pictures)
Barbie Dolls - Ponytail
Swirl Ponytail 
Bubblecut 
Fashion Queen 
Miss Barbie 
Midge
900 Series Ensembles 
Knitting Pretty (Pink) #957 (1964) 
Stormy Weather #949 (1964-1965)
800 Series Ensembles 
Cheerleader #876 (1964-1965) 
Drum Majorette #875 (1964-1965) 
Candy Striper Volunteer #889 (1964) 
It's Cold Outside #819 (1964-1966)
1600 Series Ensembles 
Barbie Skin Diver #1608 (1964-1965) 
Black Magic #1609 (1964-1965) 
Country Fair #1603 (1964) 
Crisp 'N Cool #1604 (1964-1965) 
Dog 'N Duds #1613 (1964-1965) 
Garden Tea Party #1606 (1964) 
Golden Evening #1610 (1964) 
Knit Separates #1602 (1964) 
Lunch Date #1600 (1964) 
Pajama Party #1601 (1964-1965) 
Satin 'N Rose #1611 (1964) 
Theatre Date #1612 (1964) 
White Magic #1607 (1964)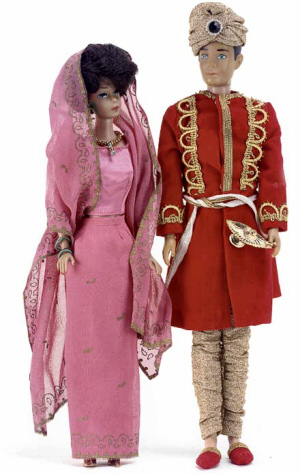 Little Theatre Series Ensembles 
Barbie Arabian Nights #874 (1964-1965) 
Cinderella #872 (1964-1965) 
Guinevere #873 (1964-1965) 
Little Red Riding Hood & The Wolf #880 (1964)
Travel Series Ensembles Barbie In Hawaii #1605 (1964) 
Barbie In Holland #823 (1964) 
Barbie In Japan #821 (1964) 
Barbie In Mexico #820 (1964) 
Barbie In Switzerland #822 (1964) 

Fashion Pak Items 
Going To The Ball (1964-1965) 
In The Swim(1964-1965) 
Spectator Sport (1964-1965) 
Campus Belle (1964-1965) 
Lovely Lingerie (1964-1967) 
On The Go (1964-1965) 
Ruffles 'N Lace (1964-1965) 
Sweet Dreams (1964-65)
---
Here are the current listings:

---
You might also like: