Home

›
Mod Barbies

›
P.J.
PJ Dolls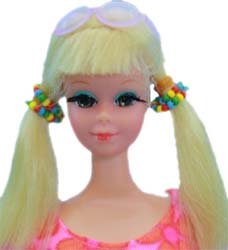 PJ Dolls were introduced in 1969 when Barbie's Friend Midge received a makeover and a new name. Using the same Midge face and head mold, PJ was more hip and mod than Midge. PJ had long blonde pigtails, brown eyes with blue eye shadow and wickedly long rooted eye lashes.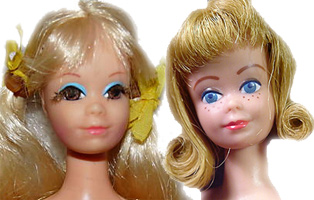 Talking PJ was introduced in 1969, Twist 'n Turn PJ followed in 1970. She has the same body as Barbie and shares Barbie's clothes. The only clothing items that has a PJ label were PJ's swimsuits and the items from the two gift sets. 
Vintage PJ Dolls
Other PJ Dolls
Beginning in 1972, the Steffie Doll face was used for PJ.  Here are the other P.J.'s made through 1983.
1972
Sunset Malibu PJ
(See on eBay - Amazon)
1974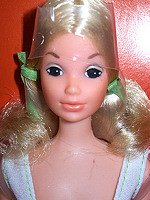 Free Moving PJ
(See on eBay)
1974
Gold Medal Olympic PJ Gymnast
(See on eBay)
1982
Sunsational Malibu PJ
(See on eBay)
PJ Gift Sets
P.J. Doll Case
The only Barbie case that I am aware of that includes PJ is a Barbie & P.J. Sleep & Keep case.  It is very hard to find. 
Here are the current listings:

---
You might also like: