Mod Barbie Dolls 1967 to 1972


In 1967, the first Mod Barbie Dolls were released.  Twist 'n Turn Barbie Dolls had long straight hair and her wardrobe had a total makeover.
Below is a detailed chronological history of the Mod Era from 1967 to 1972.  Each doll has its own page with pictures and detailed information.
Pictures and details are also available for Barbie's same sized Mod Friends who shared Barbie's clothes, including: Stacey, Julia, Christie, PJ, Steffie and Kelley.
For Vintage Barbie and Midge Dolls from 1959 to 1966  see Vintage Barbie Dolls.
Don't forget to vote in the poll for your favorite Mod Barbie!
Barbie Twist 'n Turn (TNT) (1967-1968)
The release of the Vintage Twist n Turn Barbie Doll, also called TNT by collectors,  was the beginning of the Mod Barbie Era.  The TNT Barbie has rooted eyelashes,  bendable legs and a twist and turn waist.

Vintage Hair Fair Barbie 
Hair Fair Barbie was not a doll, just a Barbie head with wigs, hairpieces and accessories.  All had chin length hair with a side part.  There were 3 different versions in the Mod Era. 

Standard Barbie Doll 
The Vintage Standard Barbie Doll was the new "TNT' face on the standard (original, "non-TNT") body, released in 1967 through 1970. 
Talking Barbie - 1968 - 1971 
Talking Barbie was sold from 1968 to 1971. There were three different versions and a Stacey face variation. Don't miss the video of the Talking Barbie TV Commercial!

Twist 'n Turn - Flip Hair Barbie 1969 - 1971 
TNT Barbie got a new hairstyle in 1969 - a shoulder length flip, arguably inspired by the hit TV show That Girl which ran from 1966 to 1971 and starred Marlo Thomas with a similar hairstyle. 

Dramatic New Living Barbie - 1970 
Dramatic New Living Barbie had bendable knees, ankles and elbows. She swivels at the waist, legs, neck, arms and hands.
Barbie with Growin' Pretty Hair - 1971 - 1972 
Barbie with Growin' Pretty Hair was sold in 1971 and 1972. These Mod Barbie Dolls had a retractable ponytail and come with two hair pieces.

Live Action Barbie - 1971 - 1972
Live Action Barbie was sold in 1971 and 1972. There was a version that came with a stage - this was the "hippie" Barbie!

Living Barbie - 1971 
Living Barbie was an update of the previous Dramatic Living Barbie - same doll, shorter name. She also had a new outfit and pink lips and cheeks instead of orange.
Sunset Malibu Barbie 
1971 - 1977 
Malibu Barbie was one of the most important Barbie Dolls of the 1970s. She was sold through 1977 and defined Barbie throughout most of the 70s. She was an instant hit and was enormously popular.

Barbie Hair Happenin's - 1971
Barbie Hair Happenin is one of the rarest from the Mod Barbie era and is hard to find. Originally it was thought to be a Sear's Exclusive Doll, but it was not.

Busy Barbie - 1972
Busy Barbie has hands with thumbs that can grasp all of her accessories.

Busy Talking Barbie - 1972
Busy Talking Barbie has Blonde Chin Length with Bangs and came with the same accessories as Busy Barbie.

Walk Lively Barbie - 1972
Walk Lively Barbie walks with her Walk 'n Turn Stand and moves her head and arms. 
There were also Walk Lively Steffie and Ken dolls.
Mod Barbie Dolls Size Friends
Stacey Dolls were introduced in 1968, as Barbie's new "cool" Mod friend. She hailed from the Mod Mecca of hipness - Great Britian. There were two versions - TNT (Twist 'n Turn) and Talking Stacey. Between 1968 and 1971, there were three different TNT Stacey versions and two different Talking Staceys. She was permanently retired after 1971.
TNT Stacey

TNT Stacey had two different hairstyles and three different swimsuits. For more details - TNT Stacey Doll

Talking Stacey

Talking Stacey had a side ponytail and two different swimsuits. For more details - Talking Stacey

---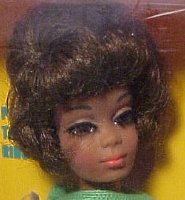 The Christie Doll was introduced in 1968 with the Talking Christie Doll. She was the first African American Barbie size Doll. From 1968 to 1973 there were four vintage Christie Barbie Dolls - Talking, Twist 'n Turn, Live Action and Malibu. The Christie Doll has continued to be sold through the 1970s, 1980s, 1990s and today.
---
PJ Dolls were introduced in 1969 when Barbie's Friend Midge received a makeover and a new name. Using the same Midge face and head mold, PJ was more hip and mod than Midge. PJ had long blonde pigtails, brown eyes with blue eye shadow and wickedly long rooted eye lashes.
Talking PJ 
Talking PJ was the first PJ - she was released in 1969. 
Talking PJ 


Twist 'n Turn PJ 
TNT PJ Doll was introduced in 1970 and was manufactured through 1971. 
Twist 'n Turn PJ 

Live Action PJ 
Live Action PJ was released in 1971 along with Live Action Barbie, Christie and Ken.  Live Action PJ 

Sunset Malibu PJ 
When Malibu PJ was released in 1972 she had a glamorous new look. 
Sunset Malibu PJ
---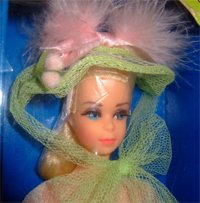 Truly Scrumptious - 1969
There were two Truly Scrumptious Barbie Dolls - a "standard" one on the traditional straight leg Midge/Barbie body and a Talking Truly Scrumptious. Both dolls have a Francie head & Barbie body.
---
Julia was one of the first Celebrity Barbie Dolls. She was introducted in 1969, based on a popular TV character played by Diahann Carroll. There were two Jula Dolls, Five of her own outfits, one of which was included in a Julia Doll Gift Set.
---
Jamie - 1970 - 1972
Walking Jamie Doll is one of the rarest Mod Barbie Dolls, she was a Sears Exclusive Barbie Doll sold from 1970 to 1972. She was also available in two different gift sets.

Steffie
Barbie's Friend Steffie was introduced in 1972. The Steffie doll head mold is still in use today and is one of the most popular Barbie faces ever produced. 

Miss America
Mattel made two different Miss America Dolls using Barbie's Body and the Steffie head mold. Walk Lively Miss America was sold in 1972 and 1973 and Quick Curl Miss America from 1973 to 1976.
---
You might also like: