Vintage Little Kiddles - Liddle Kiddles
Vintage Little Kiddles  - Liddle Kiddles were introduced by Mattel in 1966.  They were tiny dolls, ranging from 2 1/2 to 3 1/2 inches tall, with pose-able limbs and rooted hair.
Here are the different groups and the names of the dolls in each. Links go to individual pages with more info about each series / doll.
---
These were the first Liddle Kiddles introduced. They were made by Mattel from 1966 to 1968. They were packaged on cardboard inside a clear plastic bubble.  Each doll had rooted hair and came with accessories and a storybook, most of them came with a comb.

They are 2½ to 3½ inches tall, and have pose-able arms and legs.

They are all marked : 1965, Mattel, Inc. Japan.

Each Kiddle is pictured and described - go to Original Kiddles

---
---
---
All are 2"tall. The Funny Bunnies were made for Easter.  They all came with a little safety pin through their back, so they could be worn like a brooch.
---
---



A set of four Kiddles made in 1969. They are packaged on a card that measures 10" X 9" that opens into a storybook. Each of the four dolls also has a stand included in the set.

Truly Scrumptious - 2" tall
Mr. Potts - 2" tall
Jeremy - 7/8" tall
Jemima - 7/8" tall

---
---
Henrietta Horseless Carriage
Lenore Limousine
Rosemary Roadster
Teresa Touring Car
---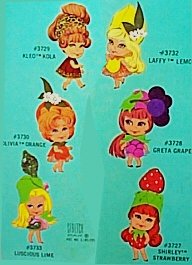 Luscious Lime
Laffy Lemon
Shirley Strawberry
Kleo Kola
Olivia Orange
Greta Grape
---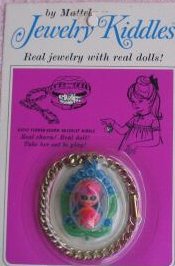 Flower Ring
Flower Pin
Flower Bracelet
Flower Necklace

Heart Ring
Heart Pin
Heart Bracelet
Heart Necklace

---
A pusher is attached to their backs, which makes them walk - their legs, arms and head move. They are 4 inches tall.
Anabelle Autodiddle
Cherry Blossom
Fritzi Frosti Wagon
Harriet Helididdle
Heather Hiddlehorse
Lickety Spliddle Skediddle
Rah Rah
Sheila
Shirley
Suki
Swingy
Tessie Tractor
Tracy Trikediddle
---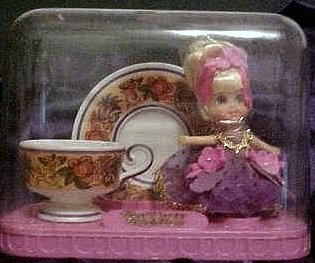 Lady Crimson
Lady Lace
Lady Lavender
Lady Silver

---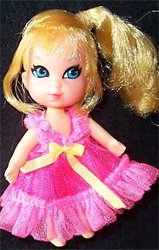 Each 3-1/2 inch doll came with a small room that included furniture. The rooms could be stacked to make a little house.
Pretty Parlor
Cookin' Hiddle
Goodnight Kiddle

---
 Storybook Sweethearts 1969 - 1970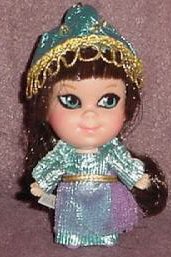 King & Queen of Hearts (See on eBay)
Prince & Rapunzel (See on eBay)
Robin Hood & Maid Marion (See on eBay)
Romeo & Juliette (See on eBay)

---
Sweet Treat Kiddles 1969 - 1970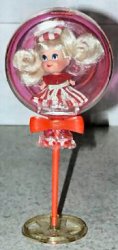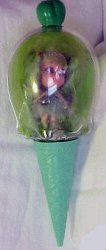 Kones: (See on eBay)
Frosty Mint Kone
Orange Ice Kone
Tutti Fruiti Kone

Lolli-Pops: (See on eBay)
Lolli-Grape
Lolli-Lemon
Lolli-Mint

---
Mini-Kiddle Pop-Ups 1968
Fairytale Castle
Gingerbread House
Soda Parlor
(See on eBay)
The dolls are the same ones as the Jewelry Vintage Little Kiddles.
---
Kozmic Kiddles 1969 - 1970
Bluey Blooper
Greenie Meenie
Purple Gurple
Yello Fello
(See on eBay)
---
Zoolery Kiddles 1969 - 1970
Brawny Bear
Chummy Chimp
Little Lion
Playful Panther
(See on eBay) Each Kiddle is either a bracelet or necklace, they came in old fashioned circus train cars that could be connected.
---
---
You might also like: