Name and date of Blue/Silver Barbie Space Dress
by Kelly
(Washington)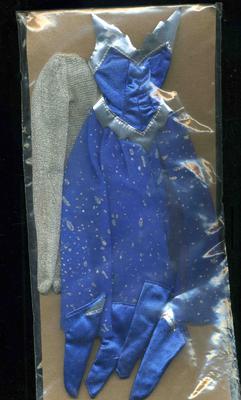 I have several dresses from the late 1980s and early 1990. I have done some searching online and have not found a guide for barbie clothes from this time frame. I have a Blue and Silver space dress that is one of my favorites and was wondering if you/anyone know the name and date. There is a tag, have included a picture. Not sure if the silver tights go with set or not. thanks.
Barbie Identification:: Superstar Hot Pink Satin Long Dress
by Nathalie
(Kentucky)
Q:

No tags with one back button snap.

A:

This looks like the original dress from the 1977 Superstar Barbie



Return to Barbie and Fashion Doll Identification.
Barbie Blue Nautical Halter Dress Identification?
Question:
Blue Nautical Barbie Halter Dress - It has a genuine barbie tag inside. snaps in front and ribbon wraps to tie in back.

My Answer:
I thought this one was going to be easy - I have that dress, it was in a collection I acquired and a Malibu Barbie was wearing it. (I also had a long dress I wore to a dance in 1976 that was very similar!) But I can't find it anywhere - which may mean it was 1980 or later. I do not think it came on a doll. Anyone know this dress?
Question About Superstar Barbie Fashion
by Spencer
(LA)
I'm looking for the name of the fashion on the cover of this book, I was looking to purchase it on eBay.

Hi Spencer -
That is the 1978 Superstar Barbie - she came in that outfit - it was updated from the 1977 hot pink satin halter dress.
I have that book & this is what it says:
"Superstar Barbie Doll
#9720
(1978)
The regular version of this doll was about the same as the preceding year's #9720, but this promotional issue had a different outfit and came with a free hair comb for the child. The long, slinky, striped glitter knit gown came with either silver-on-rose or an all raspberry version. Silver sequins were used to accent the neckline and to form the doll's evening turban. The doll also had a white maribou stole, rose Superstar shoes, and "diamond" earrings, necklace and ring."

You can see the page it is on & the pictures - go to this page on Amazon
- mouse over the image of the book - in the search box put 161 & click to open page 161.
I could not find it on eBay.
Suzanne

Need help with identifying Jordache outfit for Ken?
by Michelle
(Central PA)
Hi,
I have an outfit that has the Jordache logo on the shirt and rear of the jeans. I think it also may have came with the cowboy hat. I don't know if this is a Ken outfit or maybe another one such as Donny Osmond or something. Does not have any label inside. Thanks so much!

Hi Michelle -
I am not familiar with this outfit - it may have possibly been on or for a newer Ken doll. I will see if I can find any info & will post it in case anyone else recognizes it.
Suzanne
Question about Barbie Clothing - Real of Not?
by Lynda
(San Diego)
I found this on eBay. Is it a real Barbie outfit? And if so, what is it called? There are no tags, and it closes with velcro.

Hi Lynda - I would say this is probably a "real" Barbie outfit, but it is not vintage. It looks like a much more modern ensemble. Maybe some will recognize it.
Suzanne
I need help identifying a tagged vintage barbie wedding dress with hat/veil
by Sandra
Hello, I have a puffy shouldered tagged barbie wedding dress with a hat/veil that I can not find the name for anywhere...it is off white. the inner lining is satiny and the other fabric is an embroidered lace..it has very puffy sleeves (Queen Victoria style) at the top with a waist band of the same satiny fabric that is also the top of the dress...the collar and sleeve hems are bordered in lace..the hat is a round hat with attached veil...I would appreciate any help you could give me...thanks very much! Sandra

Hi Sandra - I don't think this is a vintage dress - The dress & hat look like 1980's style to me - does it have a tag? what does the tag look like?
Suzanne
Pink satin Barbie dress w/lace trim and matching sheer shawl?
by Jan
(Parma, OH)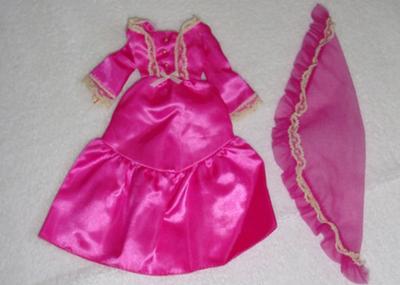 Dress does not have any tags. Can you tell me the name and item number. I would certainly appreciate it.
Barbie Clothing Id Request - 2 Superstar Era Items
I have two outfits I am trying to find the name for. The first is a dress with red and white horizontal stripes, 3/4 sleeves, gathered at the waist and open in the back. I think I got it between 1978 and 1984, but I am not certain. It has no tags, but I am certain it is genuine Barbie.

The other is a yellow jumpsuit with a halter-type top that ties on the back of the neck. It has purple, orange and red paint sploches on it and a matching jacket. It does not have any tags and I am not sure if it is genuine Barbie or not, but I think it is.

Any help would be most appreciated.
White plastic barbie purse with pink decal with 2 credit cards
by Jody
(Ruskin Fl)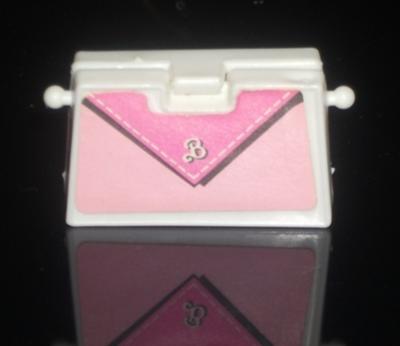 Hello,

I have had these Barbie items for some time now. I just happened to open this little Barbie purse and inside were 2 Barbie "International" credit cards! I have no idea the set this belongs to and was hoping someone could help?

Thank you!

Hi Jody -
This is from Day-to-Night Barbie from 1984 - you can see it here on eBay
.
Suzanne
Return to Barbie and Fashion Doll Identification.
Identifying Barbie Shoes made in Hong Kong
by Heidi Warnke
(Indianapolis, IN)
Question:
Hello! Can you help me to ID these saddle shoes? They are marked "Hong Kong", and are the correct size for the pointed toe Barbie (not the flat footed one). The shoe material is rather flexible too, not too rigid.
Any information you have would be great! Thank you!


Answer:

I do not recognize the shoes or ever remember seeing them before. Barbie items were made in Hing Kong from 1970 to 1987, so they may possibly be from later years if they are a Barbie item. Were they found with other clothing items that might make them easier to date? Does anyone else recognize these?
Thanks!

Suzanne
---
If you enjoyed this page, please consider sharing it with your friends: