1999 Millennium Princess Barbie
The 1999 Holiday Barbie
1999 Millennium Princess Barbie was the first Holiday doll not in the Happy Holidays series. She was designed to welcome the year 2000 and the new millennium.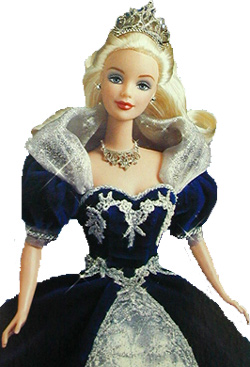 She is wearing a dark blue velvet gown with center panel of glittering organza and silver lace. She has a silver tiara, necklace  and an ornament.  Her ornament was clear  like a crystal ball with a ribbon that reads "Happy New Year 2000".
I always felt this holiday Barbie was a bit understated when compared to the other dolls, even her dark blue and silver box seems understated. Perhaps she is a reflection on the seriousness that was felt when we entered "Y2K". 
In addition to the African American version of Millennium Princess, there is also a Millennium Princess Teresa (A Toys R Us Exclusive) - Barbie's brunette friend. Teresa is the most limited of the trio.
Both Barbies have their hair long with the front part pulled back, while Teresa has an updo.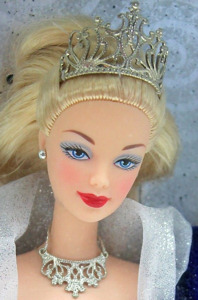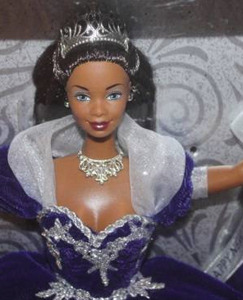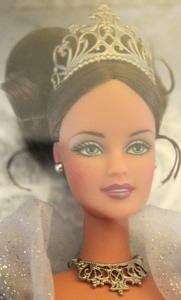 She had an original retail price of $39.95 when she was introduced.  She must have been greatly overproduced, as she is selling now everyday for under $20.  The African American and Teresa versions are slightly higher - but not much.
1999 Millennium Princess Barbie Ornament
Hallmark did a Millennium Princess Christmas ornament in 1999.  There are both blonde and African American Versions.  Barbie is wearing a replica of her dark blue and silver ball gown.  She has the dangling silver crystal ball.  It was created by Hallmark Artist, Anita Marra Rogers.  It Can Be Hung on a Tree or Stand by Itself.
Here are the current listings:

---
You might also like: