Halloween Barbie Dolls
Halloween Barbie dolls are a wicked good opportunity to expand your Barbie collection.  Since dressing up and pretending are a huge part of both Halloween and Barbie, it's the perfect fit.  The first Halloween Barbie Dolls were the Barbie & Kelly Halloween Target gift set in 1997.  Every year since there have been Halloween Barbies - both Grocery Store / Pink Box editions and for many years there was a Target special Halloween edition.  There have also been many Kelly and Friends Halloween dolls.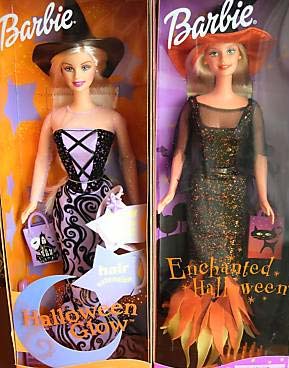 Looking for boo-tiful Halloween Barbie dolls that are
wicked in a good way?  Enter if you dare...
1997
Target Halloween Fun
Barbie & Kelly Set

1998
Target Halloween Party Barbie & Ken Set 


1999
Target Halloween Fun Barbie & Kelly Set


1999
Target Halloween Fun Kelly's Li'l Friends

---
2000
Enchanted Halloween Barbie Doll


2001
Target Halloween Princess


See on eBay 

2002
Halloween Glow
Barbie Doll

2002
Perrr-fectly Halloween Target Exclusive


See on eBay 
---
2003
Maskerade
Halloween Party


See on eBay

2003
Target
Halloween Fortune


2004
Halloween
Enchantress

2004
Boo-tiful
Halloween Barbie
---
2005
Halloween Wishes
Barbie Doll

2005
Halloween Star Estrella de Halloween


2006
Halloween Charm
Barbie Doll


2006
Trick or Chic
Barbie Doll

---
2006
Halloween Hip


2007
Halloween Party


See on eBay

2008
Trick or Chic


2009
Fashion Spell

---
2009
Halloween Treat
Barbie Doll


See on eBay 

2009
Pink Halloween
(Target Exclusive)


2009
Kelly Merry Monsters (Target Exclusive)


2010
Target Happy Halloween

---
2011
Halloween Party
Barbie Doll


2011
Halloween Treat
(Target Exclusive)


2011
Halloween Haunt
(Barbie Fan Club Exclusive)





2012
Halloween Haunt
Barbie Doll

---
2012
Halloween Star
(Target Exclusive)


2013
Bewitched &
Bejeweled


2013
Sweetheart Halloween
(Target Exclusive)


2014
Halloween
Barbie Doll

---
2014
Halloween Barbie
(Target Exclusive)

2015
Moonlight Halloween
Barbie


2015
Haunted Beauty
Zombie Bride Barbie

2019
Barbie Dia de Muertos
Day of the Dead
---
---
2014
Halloween Kelly Dolls
(Target Exclusive)


2014
Mini Halloween Dolls
(Target Exclusive)

---
You might also like: