Vintage Barbie Bubblecut Dolls
Vintage Barbie Bubblecut Dolls were produced from 1961 to 1967.  There were many hair and lip color variations, as well as variations in the fullness of the hairstyle.  With hair style playing a major role in the value of a doll, the distinctive bubblecut makes this doll a valued addition to a Barbie collection.  
Vintage Barbie Bubblecut Dolls
that boast a new hair style with a side part.
In 1964 and 1965, Mattel released a Bubblecut Barbie with a new hair style.  The side thatched rooting pattern made the distinctive side part difficult to unpart.  These dolls were sold in Europe and Canada, but not in the United States.  There are also transitional dolls that have a side part and the American Girl face.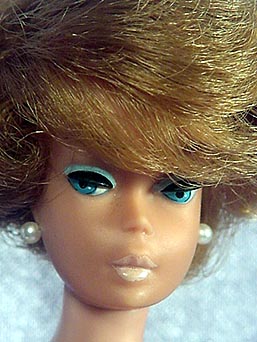 They were transitional dolls, made during the transition from a side-part Bubblecut to the American Girl.  You can easily identify the transitional doll because her head will have the traditional American Girl markings on the inner rim of her head. These are probably the rarest and most valuable Bubblecut Barbie dolls.
---
You might also like: