Home

›
1959 - 1960

›
Plantation Belle
Vintage Barbie Plantation Belle
Vintage Barbie Plantation Belle #966 (1959-1961)

Pink Sheer Dress
White Full Half Slip
Pink Straw Picture Hat
Pink Straw Purse with Sequins & Beads
Pink Graduated Pearl Necklace
Pink Pearl Snake Bracelet
Pink Pearl Earrings 
Short White Gloves
Pink Open Toe Shoes 
The romantic pink sheer Scarlet O''Hara party dress is trimmed in lace and goes over a white nylon petticoat with tulle ruffles and ribbon accent.
The pink straw hat has flower bud accents.  
The matching straw purse has sequin and bead accents.

The delicate fabric of this outfit doesn't hold up as well as many –plus it was only made for two years, so it can be a little more difficult to find in great condition.

The accessories that are unique to this set are considered rare and can be hard to find in great condition.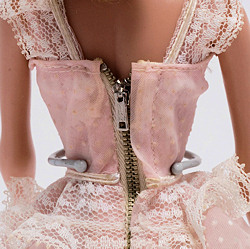 The dress closes with a back zipper.

There were two different types of lace used.  The variation on the left is the one most commonly seen - the one on the right is much rarer.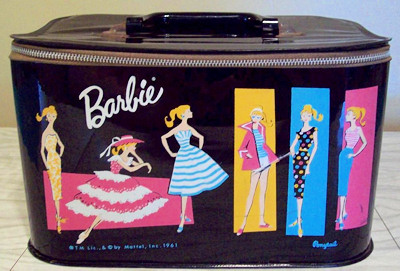 This ensemble was pictured on this 1961 Travel Pals Train Case made by Ponytail.  The other outfits pictured are Golden Girl, Plantation Belle, Cotton Casual, Resort Set, Apple Print Sheath, and Cruise Stripes.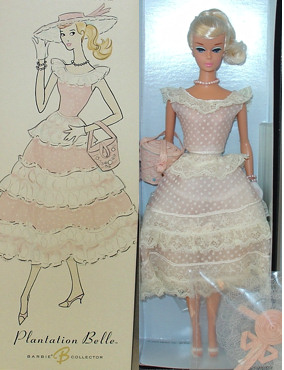 Mattel issued a Plantation Belle Reproduction in 2004.
This photo from a 1957 ad in a woman's magazine, shows the inspiration for this ensemble.  It was one of the styles of the late 1950s.  (Photo from Pinterest.)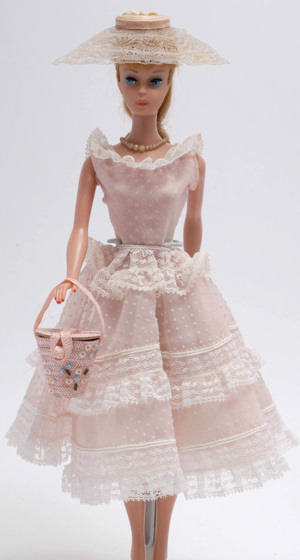 Here are the current listings:

---
You might also like:
---