Vintage Barbie Fashion Pak Belle Dress
Vintage Barbie Fashion Pak Belle Dress (1962-1963)
Blue, Orange or Pink Dress
White Graduated Pearl Necklace
The dress has a self-fabric accent bow at the waist and snaps in the back. It has a v-neck and single pleat in the front.
In my experience, it seems like the blue color is the one seen the least.

The cotton version is easy to find. It is currently selling for around $100 if it has never been removed from the package and around $25 to $30 for a dress in near mint condition. Add another $10 to $20 if the necklace is included. Obviously the price decreases as the condition deteriorates.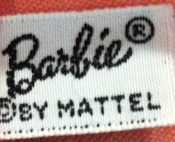 Both dresses should have the black & white cloth tag with Barbie&reg in script.
Here are the Orange and Blue:
(The orange is sometimes called Coral)