Vintage Barbie 1961 - 1962
Vintage Barbie 1961 - 1962 enjoyed many memorable changes.  1961 saw the arrival of Barbie's ultimate accessory - Ken!  Kenneth Sean Carson became the second character and the focus of affection for Barbie.  Also, eight new ensembles were introduced in 1961, with a total of thirty available for her wardrobe in 1961.  In 1962, Barbie got a new hairdo and the Bubblecut Barbie was added to the line.  Barbie also received eight new ensembles, and an additional twenty-eight were carried over from previous years.  Also the "Pak" concept, with mix-and-match items, were introduced for both Barbie and Ken.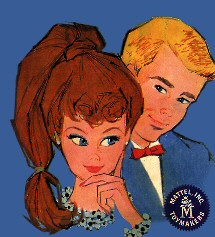 Vintage Barbie 1961 - 1962 Dolls & Fashions
The early sixties was an exciting time for Barbie.  In 1961, Mattel created a Barbie fan club to unite those linked by their love for Barbie.  From a new bubblecut hairstyle to a new man in Barbie's life, there was no shortage of firsts.  Here you will find vintage Barbie 1961 - 1962 collectibles that will give you an idea of what an impressive time it was.
---
1961
1962
1962 Fashion Pak Items
Fashion Paks were introduced in 1962. Instead of complete ensembles, there were either single items or accessories. They were color coordinated and allowed Barbie to have a larger wardrobe by mixing and matching. 
Apron and Utensils (1962-1963)
Polka dot Sheath Dress (1962-1963)
Slip, Panties, Bra (1962-1963)
Purse Pak (1962-1963)
Cotton Mix & Match Group (1962-1963)

---
You might also like: