Home

›
Mod Barbies

›
TNT
Vintage Twist 'n Turn Barbie Doll
The release of the Vintage Twist n Turn Barbie Doll, also called TNT by collectors, was the beginning of the Mod Barbie Era. Barbie received a total makeover - a new face, a new hair style and a new body. The TNT Barbie has rooted eyelashes, bendable legs and a twist and turn waist.
Doll Name: 
Twist 'n Turn, TNT
Model #: 
1160
Box Date: 
1966
Issue Date: 
1967 to 1968
Hair Colors:
Shades of Blonde, including Sun Kissed (light blonde), Summer Sand (grayish blonde)
Red / Titian 
Brunette, including Go Go Co Co (medium brown), Chocolate Bon Bon (dark brown)

(You will find there are variations of each color.  You will also find dolls with different hair colors, usually this is caused by oxidation over the years.)
Face: 
Blue eyes, brown eyebrows, rooted eyelashes, deep pink lips and blush
Clothing:
1967 

Orange vinyl bikini with white net cover- with orange accent stitching.  Orange hair bow.
Stand: 
Clear X-Stand
Body Markings: 
©1966
Mattel, Inc. 
U.S. Patented 
U.S. Pat.Pend 
Made In 
Japan
Vintage Twist 'n Turn Barbie Doll Reproductions
Trade-In TNT Barbie
Mattel promoted Barbie's new look and TNT body with a very successful Trade-In program.  The dolls were the same as the 1967 Twist 'n Turn Barbie but they came in a special box.  For only $1.50, girls could trade-in their older Barbie Dolls for a new, modern Barbie.  This was a very successful promotion - I remember trading in my earlier doll for a new one. 
Notes:
The TNT's hair is pulled back at the sides with a bow. The length varies from below the shoulders to the waist and the ends are uneven.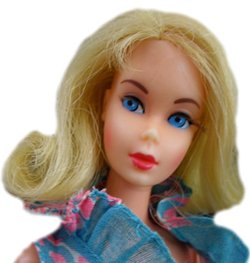 In 1969, TNT Barbie got a new, shorter hairstyle and a different swimsuit.  She is called "Flip Barbie" or "Marlo Flip" - Flip Hair TNT Barbie for details.
The Twist and Turn Waist Body was Patented in 1966.  Every Barbie made since then with a TNT waist has the date 1966 on her bottom, leading many people to believe they have found a valuable vintage Barbie doll, when in fact they haven't.
Here are the current listings:

---
---
If you enjoyed this page, please consider sharing it with your friends:
---
You might also like: