2009 Julia Doll Reproduction
The Julia Doll Reproduction was issued in 2009 and is a reproduction of the doll inspired by the TV character played by Diahann Carroll. Julia made TV history when it debuted in 1968 because it was based on an African-American woman in a non-stereotypical role. It is a reproduction of the 1969 Twist and Turn Julia Doll.

Julia Baker was a widowed single mother (her fighter pilot husband had been shot down in Vietnam) who was a nurse in a doctor's office. Diahann Carroll won a Golden Globe for her role as Julia.

The original Julia Doll was produced by Mattel in 1969. This is a faithful reproduction of the original doll wearing her white nurse's uniform, even down to her white pilgrim style shoes. She has rooted eyelashes, bendable legs and a Twist 'n Turn (TNT) waist.
The reproduction was issued in the Pop Culture Series in 2009 with a $43 issue price as part of Barbie's 50th Anniversary celebration.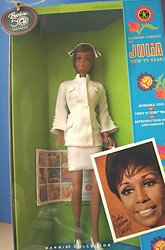 Fashion Doll Guide Home » Vintage Reproductions » Julia