2001 Celebration Barbie
2001 Celebration Barbie was the 2001 Holiday Barbie and the second Celebration themed holiday Barbie.  She is wearing a white shimmering gown with a full skirt that is decorated with silver stars. Her white faux fur stole is lined in red satin and has silver tassels. Her lipstick color matches the red lining of the stole perfectly! She has long flowing blonde hair. Her accessories include a silver tiara, and a silver necklace and earrings.

There is also an African American version and a Hallmark made a Celebration Barbie Ornament in 2001.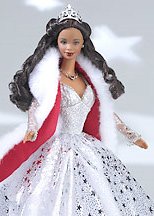 Her red and silver box creates the perfect backdrop for her ensemble.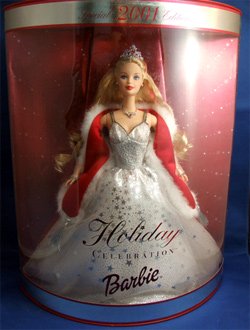 You might also like: