2005 Holiday Barbie
2005 Holiday Barbie was designed by Bob Mackie and was the 17th Holiday Barbie doll.

She is wearing a burgundy and silver gown with silver glittery accents and a burgundy velvet sash with tulle "starburst" at the shoulder. She has a matching tiara, brooch, necklace and earrings.

There was a Sears Exclusive version of this doll wearing a green version of the gown.
The regular Holiday Barbie has green stones in her jewelry, the Sears Exclusive Holiday doll has magenta colored stones.
Both dolls come in a silver box with snowflakes - the display background and writing on the boxes are accented in colors matching the gown.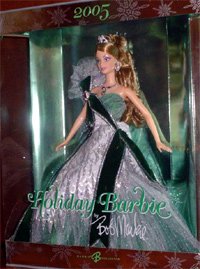 There is an African American version of both dolls.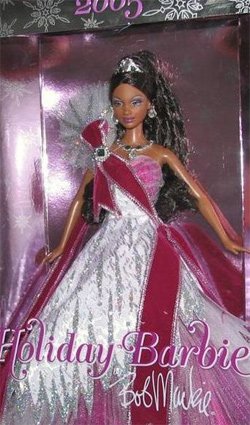 There was also a 2005 Hallmark Holiday Barbie Ornament.

You might also like: