2012 Holiday Barbie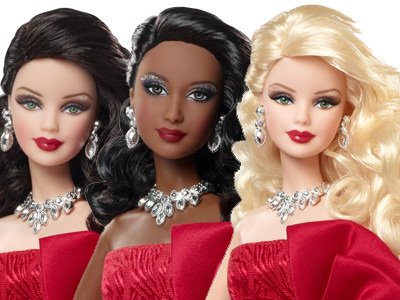 2012 Holiday Barbie is the 25th Holiday Barbie Doll. There has been one every year since 1988. There are three choices this year, a blonde, an African-American and a K-mart exclusive brunette.
This years edition is a real beauty, wearing a red jacquard strapless gown designed by Bill Greening. The strapless dress has a full skirt and its standout feature is a huge red satin bow that is part of the bodice and waist. The tail of the bow is embellished with a silver glitter design. The dress also has a tulle underskirt that is visible because of the skirt's asymmetrical draped design.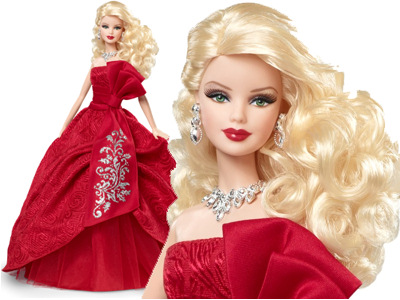 She has red lips and fingernails to match her dress. She is wearing shiny silver jewelry - necklace and earrings - that enhance the silver glitter of her dress.
She has lots of long curly hair has a side swept style.
Her release date was August 9, 2012. This is a pink box Barbie - meaning she is available in ample supply at all Barbie retailers. Her suggested retail price is $39.95. It appears the Limited Edition K-mart exclusive is very popular and is sold out online and in many K-mart stores already. This is the version that has the most potential to increase in value on the secondary market, but only time will tell.
This year's dolls are so pretty - the blonde & brunette feature the Mackie face sculpt, while the African-American has what is known as the Goddess face sculpt.  (See History of Barbie for more information on Barbie's different faces.)
She has a Model Muse style body - this is a special type body that is used on collectible dolls only that are intended for display rather than play.  The legs don't bend and there is no twist 'n turn waist.  She is taller and thinner than the traditional Barbie bodies.  Many times the arms are posed.  The only parts that move are the head, shoulders and hips.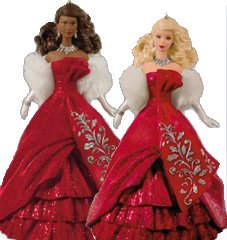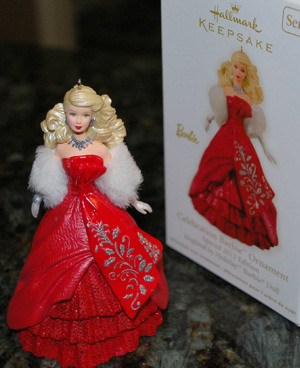 There is a matching Hallmark Barbie Ornament to go with this year's Holiday Barbie. It is a miniature replica, also available in both Caucasian and African-American versions. It is the 13th edition of Hallmarks' Celebration Barbie Ornaments. It was released in October 2012 with a suggested retail price of $17.95. The ornaments have a white fur wrap and white long gloves, which the dolls do not have.

More 2012 Holiday Barbie Photos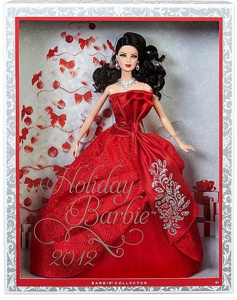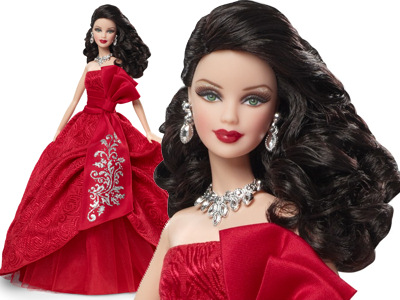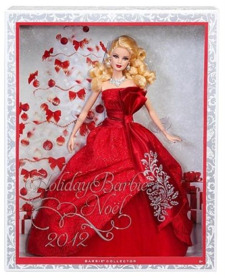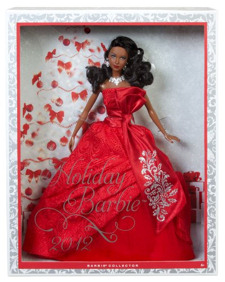 ---
You might also like: