2021 Holiday Barbie
2021 Holiday Barbie is the epitome of shimmer and shine.  The attention to detail is undeniable and it is probably one of the most fashion forward designs of the Holiday Barbie collection.  Each doll comes in a beautiful box that is a true work of art.  The bold red background of the box enhanced with silver Christmas ornaments makes displaying in the box a beautiful option.  A doll stand and a Certificate of Authenticity are included with each doll.  Designed by Carlyle Nuera, 2021 Holiday Barbie was released 7/21/2021.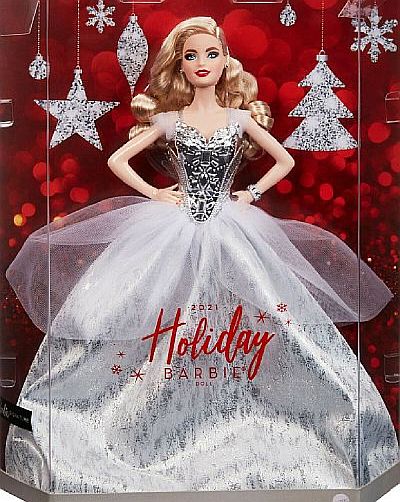 See 2021 Holiday Barbie on eBay or Amazon.
What has made the Signature Barbie Collection so appealing through the years is the level of detail and quality of workmanship devoted to each and every doll.  The 2021 Holiday Barbie is no exception.  Barbie shines in a silver gown featuring a metallic bodice embellished with "gemstones" and a laced corset back.  The stylish off-the-shoulder ruched sleeves and shimmering full skirt with a tulle peplum draped over the hips makes a beautiful fashion statement.

More 2021 Holiday Barbie...
There are three versions of 2021 Holiday Barbie.  Even though each doll is striking in her own way, they share many similarities.  Each doll was made using the ModelMuse body type, which is a special body that is used on collectible dolls, intended for display rather than play.  This doll cannot stand alone without the stand.
---
Barbie's dramatic makeup accentuates her best features.  Her statement eyes are captivating with glimmering eye makeup and painted eyelashes.  Vibrant red lips complete the stunning look.
Never underestimate the power of accessories.  The smallest accent can make a big difference, as evidenced here with a shiny silver bracelet and "pearl" earrings.

There is a Barbie shoe to fit every fancy...a shoe lover's dream come true.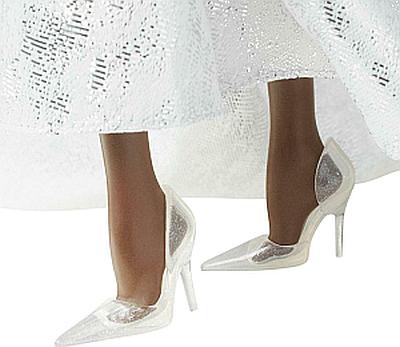 How are the three versions different?
Striking hairstyles made a world of difference...take a look.
Long brunette hair styled with curls cascading down.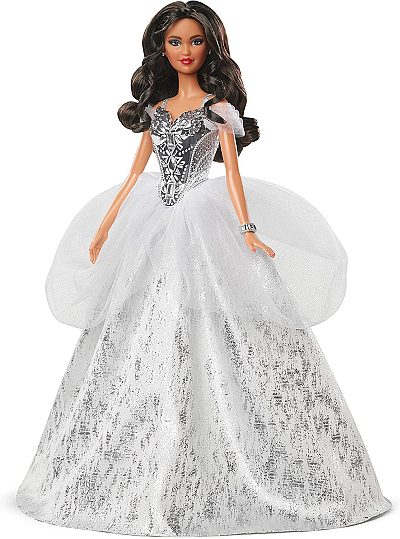 See 2021 Brunette Holiday Barbie on eBay - Amazon.
---
Long blonde hair styled in sleek, sideswept waves
and braided headband.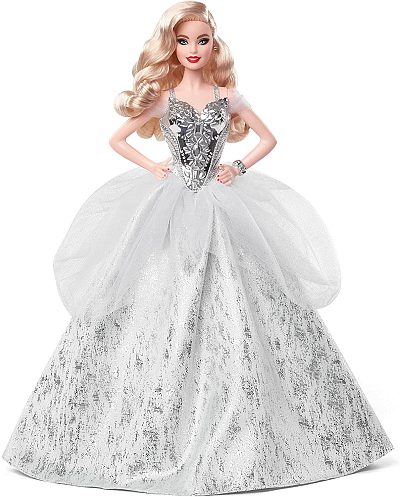 See 2021 Blonde Holiday Barbie on eBay - Amazon.
---
Long braided hair styled with half pony tail.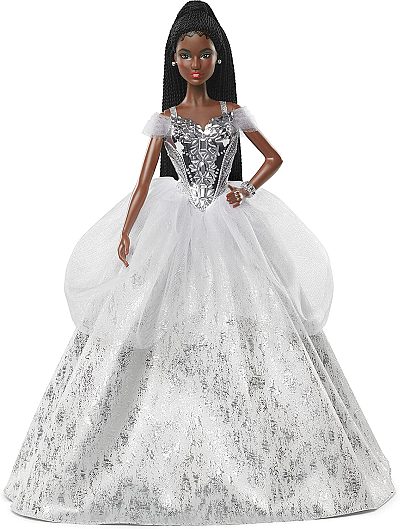 See 2021 Braided Holiday Barbie on eBay - Amazon.
2021 Holiday Barbie Collectibles
Taking inspiration from the 2021 Holiday Barbie doll, Hallmark issued a Holiday Barbie Christmas tree ornament with a 2021 copyright date.  Designed by artist, Emma Leturgez-Smith, this Keepsake Ornament is 7th in the Holiday Barbie series.  Featuring fabric accents, this plastic ornament is 2.93" W x 4.6" H x 2.45" D and is beautifully boxed.  Available for ordering now, Hallmark will begin shipping October 16, 2021.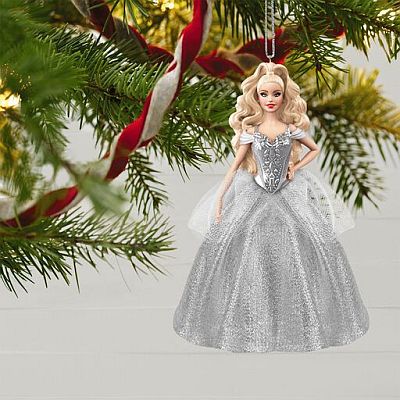 See 2021 Holiday Barbie Ornament on eBay.
In 2021, Mattel continued the holiday celebrating with the release of a Barbie Holiday Doll.  Available in blonde or brunette, she is wearing a one-shoulder pink and red candy cane themed dress.  Her accessories include a clutch, earrings, and shoes that match her ensemble.  This Playline (also known as Pink Box) doll is more affordable than the Holiday Barbie Collection making it an ideal choice for play.
See 2021 Barbie Holiday Doll on eBay.
---
You Might Also Like: