Live Action Barbie
Live Action Barbie was a doll designed for moving and shaking.  With one tap of her clear Touch 'n Go stand, she could dance to your favorite music dressed in authentic seventies attire.  Capable of posing more than ever before, this Barbie doll captured the essence of the seventies in an extraordinary way.
Doll Name:
Live Action Barbie
Model #:
1155
Box Date:
1970
Hair Colors:
Blonde
Face:
TNT head.
Blue eyes.
Rooted eyelashes.
Brown brows.
Peach blush & lips.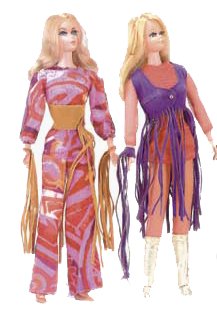 See Live Action Barbie on eBay.
Clothing:
Pink, Fuchsia and Orange print long sleeve top and pants.
Brown faux suede waistband accented with long fringe.
Fringe on wrists.
Tan Skipper flats.
Light brown headband.
Body Markings:
© 1968 Mattel, Inc.
U.S. & Foreign Patented
Patented in Canada 1967
Other Patents pending
Taiwan

Notes: The Live Action version of Barbie was sold in 1971 and 1972 both with a stage (as Barbie Live Action on Stage #1152) and in a box without the stage (Barbie Live Action #1155). She was sold in a "baggie" (no box) in 1973, 1974 and 1976.

See Live Action On Stage on eBay. 

Live Action Barbie Collectibles
The hippie fashion of the seventies played a major role in the success of Live Action Barbie.  With the psychedelic colors and suede fringe that defined 1970, this doll is still a collector favorite today making the collectibles of interest as well.  The collectibles shown here are inspired by Live Action Barbie and Live Action Friends.  
---
Live Action Barbie Trading Card.
In 1990, Mattel issued a trading card featuring 1971 Live Action Barbie.  The back of the card included a description of this iconic ensemble, Barbie facts about the doll, and fun facts that related to the seventies.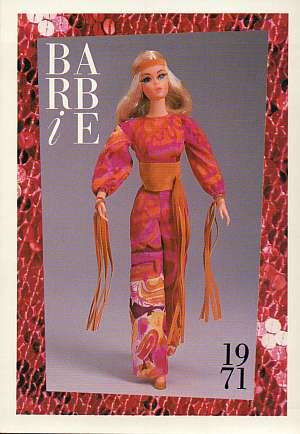 See Collectible Trading Card on eBay.
---
Barbie Keychain.
Introduced in 1971, this Barbie keychain item #713-0 really worked.  It featured movable arms, legs, head and accessories.  The keychain series was inspired by favorite styles from 1959 to 1975.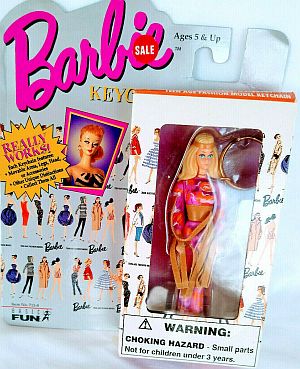 See Live Action Keychain on eBay.
---
The more, the merrier!  Joining Barbie were her Live Action Friends, P.J., Christie and Ken.  These dolls were sold separately or in a set that included the doll, stage, microphone, and 45rpm record.
Live Action Friends:
Live Action P.J. (#1156)
Live Action Christie (#1175)
Live Action Ken  (#1159)

See Live Action Friends on eBay.
---
You Might Also Like: