Vintage Barbie Apple Print Sheath Dress
Vintage Barbie
Apple Print Sheath Dress
#917
1959 -1960

Black Dress with
Red, Blue and
Green Print
Black Open Toe Shoes

The dress is made of polished cotton and has a metal zipper in the back. It has a rolled collar and is found with different variations in the intensity of the red, blue and green print.

Like the clothing, the shoes were made in Japan and came in pairs. The bottom of the left shoe should be marked Japan with the bottom of the right shoe unmarked. The first shoes had holes in the bottom to accommodate #1 Barbie's stand.

See Vintage Barbie Apple Print Sheath Dress on eBay.
---
This same dress was also included in the Easter Parade ensemble, produced only in 1959.

Early Barbie ensembles included the cloth black & white Barbie tag in one piece of each ensemble. The tag was found in the dress when it was sold alone. If it was with the Easter Parade ensemble, the tag was in the coat and the dress had no tag.

The tags in clothing made in 1959 have ™ after the Barbie name, from 1960 to 1972 they have the ® symbol (for Registered Trademark). Clothing with the ™ tag is generally considered more desirable and therefore is more valuable.


See Easter Parade Ensemble on eBay.
---
A reproduction of this dress as a part of Easter Parade was included in the
1994 35th Anniversary Gift Set.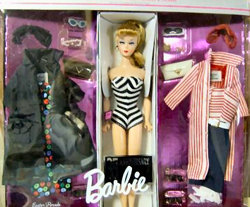 ---
This NRFB version received 13 bids and sold for $637.19 in February, 2013.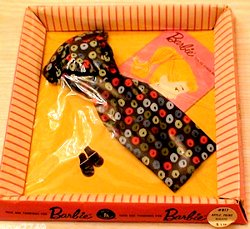 More Vintage Barbie Apple Print Sheath Dress Collectibles
When a Collector becomes captivated by a particular outfit, the goal becomes to find more items featuring that one thing.  Fortunately, the most popular fashions made an appearance in multiple places.  Here are some fascinating ways that the Vintage Barbie Apple Print Sheath Dress made its mark.
---
1961 Barbie Doll Cases
The Vintage Barbie apple print sheath dress was pictured on these 1961 cases - a Train Case and a Hat Box Case - made by Ponytail. These are some of the earliest cases made, but are surprisingly still available today and can be quite affordable.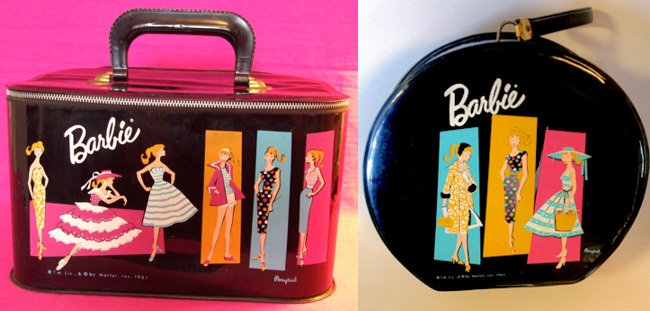 See 1961 Vintage Barbie Doll Cases on eBay.
---
1961 Barbie Hatbox Case Ornament
QX6922
A replica of the 1961 Barbie Hatbox Case was issued as a Hallmark Keepsake Ornament in 2001.  The ornament featured three ponytail Barbie dolls modeling popular fashions of that time period.  The Vintage Apple Print Sheath Dress was in the middle, with Evening Splendour on the left and Suburban Shopper on the right.  Its lid opens and closes and also includes a carrying handle.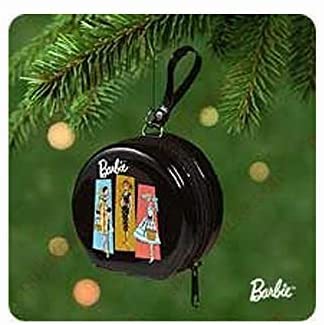 ---
You might also like: