Vintage Barbie Nighty Negligee Set
Vintage Barbie Nighty Negligee Set was proof that Barbie's wardrobe was impeccably put together by day and night.  This sheer pink baby-doll nightgown and matching robe set was accessorized perfectly with pink pompom slippers.  And who better to keep her company than a pink felt dog with a red bow tie.  It originally sold for $3.00.
Vintage Barbie Nighty Negligee Set
#965
1959-1964

Pink Tricot Gown
Pink Tricot Peignoir
Pink Open Toe Heels with Pink Pompoms
Pink Felt Dog

While these seem to be in plentiful supply, finding one in mint or near mint condition can be a challenge.
Make your dreams come true by adding Vintage
Barbie Nighty Negligee Set to your collection.
The fragile sheer tricot nightgown doesn't hold up well and is prone to picks and snags.  Also the long ties, meant to be tied in a Grecian style are frequently missing.

The robe is a sturdier fabric and is easier to find in great condition. 


The pink shoes are often missing one or both pompons.

The stuffed dog is adorable and is easy to find.

The cloth Barbie tag should be in the neck of the robe.

See Vintage Barbie Nighty Negligee on eBay.


Skipper's coordinating ensemble was Dreamtime #1909 (1964 - 1966).
While not an exact match to Barbie's Nighty Negligee, it was age appropriate for Skipper.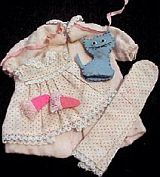 See Skipper's Dreamtime #1909 on eBay.
---
You might also like: