Vintage Barbie Picnic Set
Vintage Barbie Picnic Set
#967
1959-1961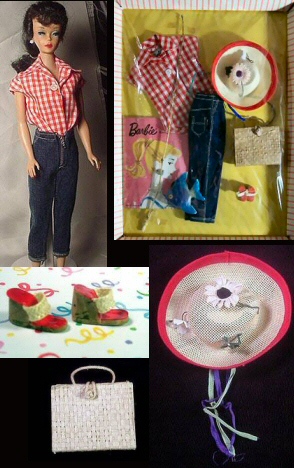 See Vintage Barbie Picnic Set on eBay.
Red & white checked body blouse with single white button

Clam digger length jeans with fly front

Straw hat with ribbon ties, red banded edges, adorned with a green frog and flowers

Straw picnic basket

Wedge shoes with red insoles and white straps

Fishing pole with line, metal sinker and fish
More Vintage Barbie
Picnic Set Collectibles
The Vintage Barbie Picnic Set clothing, the jeans and body blouse, are made of sturdy fabric and hold up very well. They are easy to find in good condition.  The tag for this ensemble is found in the blouse.

The accessories are all unique to this ensemble and are all very hard to find. The hat and fishing pole are an especially rare find with all of the original pieces intact.

The same clam digger length jeans were seen in 1963 and 1964 Fashion Paks.
---
Barbie Picnic Set Reproduction.
In 2006, Mattel issued a Picnic Set Vintage Barbie Reproduction.  Part of the Gold Label Series, this reproduction is particularly popular because the original pieces are so hard to find.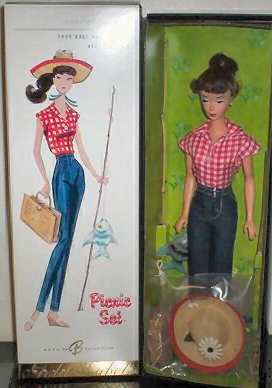 See Vintage Barbie Picnic Set Reproduction on eBay.
---
Enesco from Barbie with Love.
Enesco, authorized by Mattel, honored the Vintage Barbie Picnic Set with a collectible figurine.  Each Fashion Collection Figurine was numbered and had "Picnic" 1959 stamped on the bottom, along with a Certificate of Authenticity.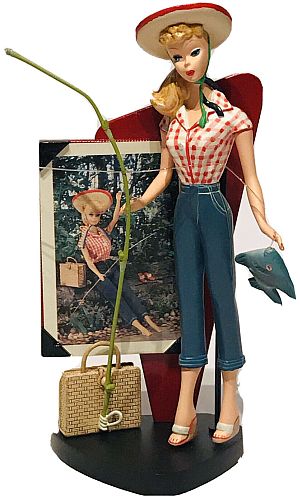 See Collectible Figurine on eBay.
---
Vintage Skipper Country Picnic.
In 1966, Skipper got a picnic set of her own.  Vintage Skipper Country Picnic had Skipper all dressed up and ready to chase butterflies.  Influenced by the butterfly theme, this tri-color dress had butterfly cutout accents and a butterfly net was included as well.  While Barbie went fishing, Skipper was content to chase butterflies.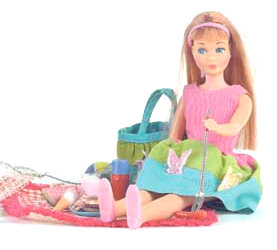 See Vintage Skipper Country Picnic on eBay.
---
Barbie & Skipper Travel Trunk
If you like picnic themed Barbie collectibles, consider this 1965 Barbie & Skipper Travel Trunk.  Ken is wearing Dreamboat, Barbie is wearing a Scoop Neck Playsuit, and Skipper is wearing Fun Time.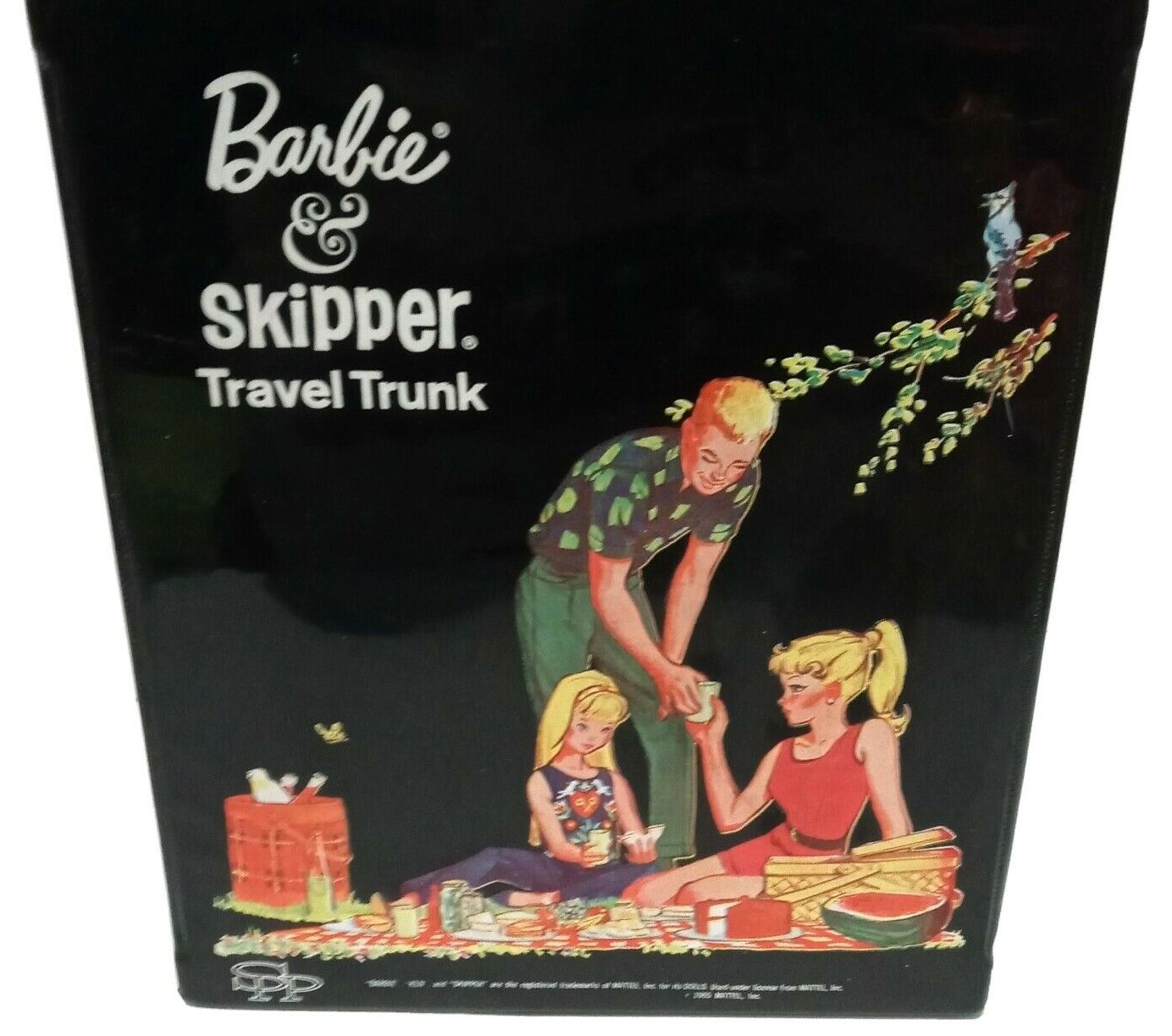 See Barbie & Skipper Travel Trunk on eBay.
---
Barbie Picnic Set.
In later years, it became apparent that Barbie needed picnic furniture.  It quickly became a craze embraced by girls in their role playing and by Collectors showing off their treasures.  There were several picnic sets issued and I found a good selection on eBay.
---
You might also like: