Vintage Barbie Raincoat
Vintage Barbie raincoat #949 was issued in 1963.  The sunny yellow belted trench coat came with everything needed for a pretend walk in the rain.  This same ensemble was repeated in 1964-1965, only this time the name was changed to Stormy Weather with the stock #0949.
Stormy Weather #0949
1964-1965
See Stormy Weather on eBay.
Yellow Trench Style Raincoat
Yellow Belt with Buckle
Yellow Hat
Umbrella with Tassel
White Rain Boots
The raincoat and boots are easy to find, although the hat, belt, and umbrella can be a little more challenging.  The belt is very prone to fraying along the edges and the umbrella is almost always missing the tassel.  Fun fact:  the umbrella did not open.
Of course, Skipper had a matching raincoat...
Skipper's matching ensemble was
Rain or Shine #1916
1965 - 1966
The hats are different styles, otherwise they are identical.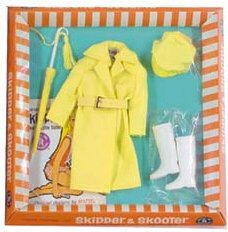 See Skipper Rain or Shine ensemble on eBay.
Collectibles Featuring Vintage Barbie Raincoat

Barbie case.
In 1963, a trunk style vinyl carrying case was issued.  Titian bubble cut Barbie was featured wearing Rain Coat and Winter Holiday ensembles.  Manufactured by SPP, the case originally sold for $5.00 and was available in blue or black.
See carrying case featuring vintage Barbie Raincoat on eBay.

Barbie and Midge case.
In 1964, a double style case featuring Barbie and Midge was issued.  The graphic featured a titian bubble cut Barbie wearing Rain Coat and a blonde Midge wearing Sorority Meeting.  Manufactured by SPP, the original selling price was $3.88 and it was available in red, dark blue, light blue, and pink.  In 1965, the case was also offered in black.

See double case featuring Vintage Barbie Raincoat on eBay.

Stylish raincoats continued to appear year after year.
Here are some of our favorites...

In 1967-1968, Drizzle Dash made its own unique fashion statement.

See Drizzle Dash #1808 on eBay.

  In 1971-1972, Red for Rain was issued much to the delight of Barbie fans.  

See Red for Rain #3409 on eBay.

---
You Might Also Like: