Vintage Barbie Sweater Girl
Vintage Barbie Sweater Girl was made from 1959 to 1962.  The gray flannel skirt had a back snap closure and the cloth tag for this ensemble was located in the cardigan sweater. The cardigan also had tiny gold bead buttons. The shell sweater had snaps in the back.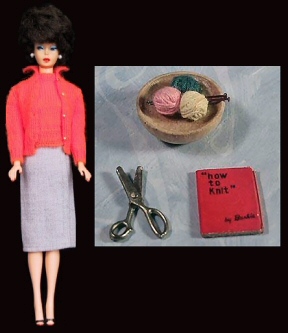 See Vintage Barbie Sweater Girl on eBay.
Vintage Barbie Sweater Girl #976
1959 - 1962
Orange Wool Cardigan Sweater
Orange Wool Sleeveless Shell
Gray Flannel Sheath Skirt
Black Open Toe Heels
How To Knit Book
Bowl of yarn with Needles
Metal Scissors
The classic Vintage Barbie Sweater Girl ensemble was made for three years, from 1959 to 1962.  Today, it is difficult to find the sweaters intact.  Most of them have varying degrees of holes, the wool just did not hold up. The skirt is easy to find, as is the yarn bowl. The tiny scissors and How to Knit book can be hard to find.

When an outfit was extremely popular, it would often times be introduced later in different colors.  With the success enjoyed by the original orange Sweater Girl ensemble, it was offered in the additional colors of blue (1963) and pink (1964).  See pictures below.


In 1963, the same ensemble was issued in royal blue and called "Knitting Pretty."  The blue version included the same knitting accessories as the original...How To Knit Book, bowl of yarn with needles, and functional metal scissors.

Knitting Pretty (Royal Blue) #957 (1963)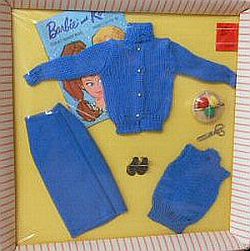 See Royal Blue Knitting Pretty on eBay.
---
It is understandable that there would be a demand for this beloved sweater outfit in pink, so Barbie got busy knitting.  The same knitting accessories were also included that came with the original orange version.  This pink Knitting Pretty ensemble is a rare find and a coveted addition to any collection. 
Knitting Pretty (Pink) #957 (1964)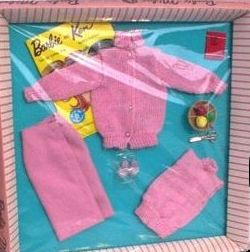 See Pink Knitting Pretty on eBay.
---
You might also like: