Vintage Barbie Sweet Dreams
The Vintage Barbie Sweet Dreams set featured textured sheer tricot baby doll pajamas with embroidery on the bodice. The blue ribbon straps tie in a bow at back. The matching panties have a tiny satin bow trim on either side.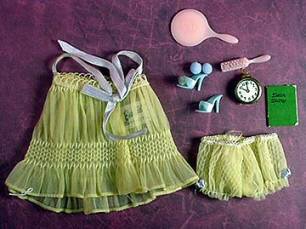 Vintage Barbie Sweet Dreams
#973
1959-1962

PINK or YELLOW

Baby Doll PJ Top & Panties
Blue Hair Ribbon with Metal Ring
Light Blue Open Toe Heels with Blue Pompons
Brass Clock
Diary
Wax Apple

More about collecting Vintage Barbie Sweet Dreams.
The yellow version of Sweet Dreams is much more common, while the pink set is hard to find.  The blue satin ribbon had a gold metal loop and attached to Barbie's ponytail and is also rare.  Frequently, the elastic in the bloomer style panties is stretched out or disintegrated.  The blue shoes are usually found without the pompons.  Replacement pompons can be purchased at a craft store and are easy to glue on the shoe.  The "diary" is a piece of cardboard covered in green and is available today.  

Collectibles that promised sweet dreams...


With the popularity of Barbie, it was no surprise that the Vintage Barbie Sweet Dreams ensemble was only the beginning of night time collectibles.  From beds fit for a queen to comfy pajamas for lounging, here are a few of our favorites.  
---
In 1972, Sweet Dreams #3350 was issued to continue the sleepy time theme.  Pajamas with pink polka dots on a white background with pink felt slippers were featured.  Included in the set was a pink comb, brush and mirror.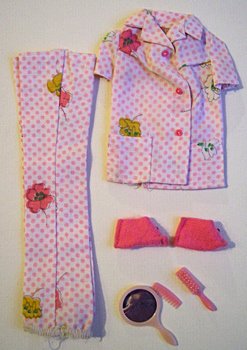 See 1972 Sweet Dreams on eBay.
---
In 1982, Mattel issued a Barbie Dream Bed.  It was just what you would expect, a white canopy bed that included bedding that was pretty in pink with white hearts, bows and beautiful laced trimmed decorative details.  Part of the Dream Furniture Collection, the set included a canopy bed and top, two pillows, bedspread, sheets, ribbons, label sheet and cut outs.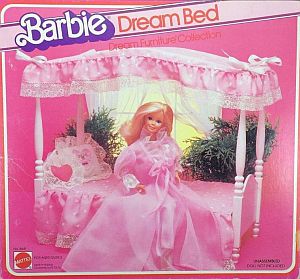 See Barbie Dream Bed on eBay.
---
In 1990, a trading card was issued that featured 1959 Sweet Dreams.  On the back of the trading card, it included Fashion Facts describing the ensemble, Barbie Facts, along with Fun Facts about what was thriving in 1959.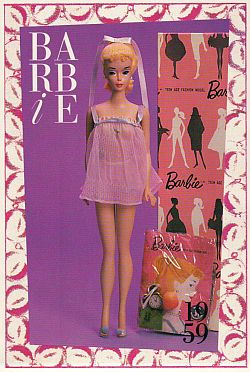 See Vintage Barbie Sweet Dreams Trading Card on eBay.
---
In 1997, The Bibb Company issued a Sweet Dreams sheet set.  The entire set is hard to come by, however the pillowcases are still available for those wishing to have their own sweet dreams.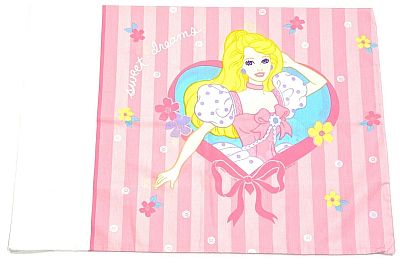 See Sweet Dreams Pillowcase on eBay.
---
You Might Also Like: