Vintage Barbie Theatre Date
Vintage Barbie Theatre Date

#959
1963

#1612
1964

Emerald Green Satin Bolero Jacket
Emerald Green Satin Peplum Skirt
White Satin Shell
Green Open Toe Heels
Emerald Green Pillbox Hat (1963 only, the 1964 version did not include the hat.)

See Vintage Barbie Theatre Date on eBay.
More Vintage Barbie Theatre Date
When an invitation to the Broadway play of Cinderella presented itself, Barbie was ready with the Vintage Barbie Theatre Date ensemble.  The jacket is the same pattern as the satin fashion pak jackets also from 1963 and 1964.  This ensemble is fairy easy to find, with the hat being the hardest, as it was only made for one year.  Also, it can be a challenge to find a white blouse in good condition and the green shoes are among the hardest colors to find.

This ensemble was made to be displayed on a red-haired American Girl Barbie Doll.  (I know the American Girl didn't come out until two years after this, but trust me on this one!)  I absolutely love this elegant sophisticated ensemble.  The emerald green satin is so beautiful.

---
It it also interesting that Ken had a Theatre Date outfit issued in 2002.  The Ken Fashion Avenue set consisted of khaki dress pants, burgundy jacket, a pair of brown shoes, black cell phone, a box of chocolates and two tickets for a Broadway show. #56872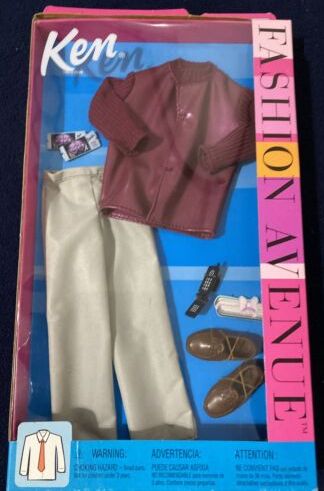 See Ken Theatre Date on eBay.
---
You might also like: