Vintage Straight Leg Skipper Doll
Vintage Straight Leg Skipper Doll
(1964 - 1966) 
Introduced as Barbie's little sister, this was the first Skipper doll made.  She was 9 1/4 inches tall, shorter than Barbie.  She had her own fabulous fashions that included many that matched her big sister.

Model #:
950

Issue Date:
1964 to 1966, reissued in 1970

Box Date:
1963

Body Markings:
Skipper
©1963
Mattel, Inc.

Stand:
Black or Gold Wire Stand

Hair Colors:
Shades of Blonde, Brunette and Titian (red)
Face:
Blue eyes, reddish eyebrows, coral lips
Clothing:
One-piece red and white swimsuit
Red Flats
Brass Headband
White plastic brush and comb
Notes:
Later versions did not have the Skipper name on the body.
Collectors often refer to this as SL Skipper (for straight leg).

See Vintage Straight Leg Skipper Doll on eBay.


More Vintage Straight Leg Skipper Doll
Along with release of the Vintage Straight Leg Skipper doll in 1964, came vinyl doll carrying cases.  The first cases were scaled to fit Skipper and her junior sized wardrobe.  Many collectors find these vintage Skipper doll cases captivating and fortunately are still available today.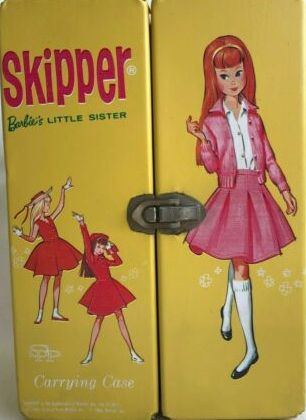 See Vintage Skipper Carrying Cases on eBay.
---
In 2018, a Limited Edition Barbie Hallmark Keepsake ornament featuring Skipper was issued.  This ornament captures the moment in time when Barbie's little sister was first introduced.  Skipper is wearing the same one-piece red and white swimsuit originally issued in 1964.
See 2018 Skipper Barbie Ornament on eBay - Amazon.
---
You might also like: