Sunset Malibu Barbie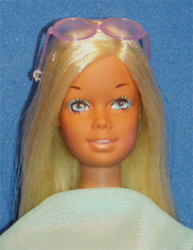 Sunset Malibu Barbie was one of the most important Barbie Dolls of the 1970s.  She was sold through 1977 and defined Barbie throughout most of the 70s.  Representing the "California Girl look", she was an instant hit and was enormously popular.  Part of her new look was the use of a Stacey head, instead of a Barbie face.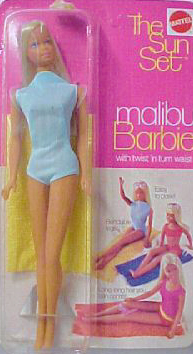 Model #: 
1067
Box Date:
1970
Issue Dates:
1971 - 1977
Hair Color: 
Blonde 
Face: 
Aqua Blue Centered Eyes, Brown Eye Brows, Peach Lips and Blush.
Head: 
Stacey head 
Inner Rim marked: 
© 1965 Mattel Inc (May also have country name)
Clothing:
Aqua Blue nylon one-piece swimsuit with high neck and v-back, Round Lavender Sunglasses, Yellow towel. 

No Stand

Body Markings:
Tan TNT body marked:


© 1966
Mattel, Inc.
U.S. Patented
U.S. Pat.Pend.
Made in
Japan

This nrfb (never removed from box) Malibu Barbie sold for $255 in August 2013.
---
Later Malibu Barbies:
Malibu Barbie - 1976
Stacey or Superstar face
Red swimsuit 

Sun Lovin' Malibu Barbie - 1979 - Superstar face, aqua blue 2-piece swimsuit, body with tan lines 

Malibu Barbie, The Beach Party - 1980 - Superstar face, Hot pink swimsuit with purple trim

Sunsational Malibu Barbie - 1982 - Superstar face, Hot pink swimsuit with flower applique 

Sun Gold Malibu Barbie - 1984 - Superstar face, Gold checked swimsuit 

Sun Gold Malibu Barbie  - Black Barbie Version- 1984 - Hispanic Barbie Face,  Gold checked swimsuit
---
Reproductions:
---
Related Dolls:
---
---
You might also like: