2011 Holiday Barbie
2011 Holiday Barbie is again available in both Caucasian and African-American versions. She is wearing an elegant gown designed by Robert Best. Her dress is emerald green with jewel accented gold embroidery and a golden lame lined skirt and underskirt. The bodice has a sash style one-shoulder strap that wraps around the bodice.

Both dolls have long flowing side parted hair and gold dangling earrings.
Both dolls have red lips and nails.
In keeping with the Ball Gown theme, the box features an elegant ball type scenery. It has dangling chandeliers and gold lettering. This is one of the prettiest Holiday Barbie boxes we have seen in a while.
The first Holiday Barbie Doll was sold in 1988, 2011 marks the 24th edition of Holiday Barbie dolls.
This doll is a pink box issue, meaning it will be available at all Barbie Doll retailers. Her suggested retail price is $39.95.
There is a matching Hallmark Barbie Ornament to go with this year's Holiday Barbie. It is a miniature replica, also available in both Caucasian and African-American versions. It is the 12th edition of Hallmarks' Celebration Barbie Ornaments. It was released in October 2011 with a suggested retail price of $17.95.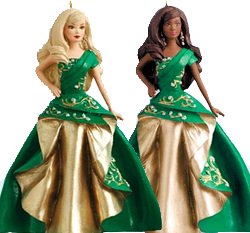 I really like this year's doll - both dolls have gorgeous face sculpts and they are beautifully elegant without being over the top. The emerald green and gold is so pretty and the gold lame underskirt reminds me of some of my favorite vintage Barbie fashions, while being thoroughly modern and up to date in style. Even the box is elegant. I love that it is the type of box that you can de-box the doll (I know many collectors do so for their holiday displays) and later put the doll back in the box to display boxed or for storage.
Fashion Doll Guide Home » Holiday Barbie Dolls » 2011