Animiddle Kiddles
The 2 inch Animiddle Kiddles were made in 1969 and have a safety pin on the back so they could be pinned onto clothing.

The Funny Bunny versions were made for Easter.

---
Dainty Deer has a pink nylon suit and orange yarn hair. She also has yellow antlers, big orange ears and a little white tail. She has brown eyes.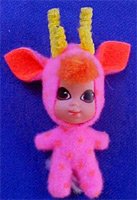 ---
Lucky Lion has a yellow nylon outift with yellow years and an orange yarn mane. She has blue eyes.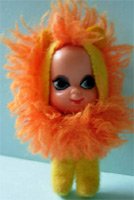 ---
Tiny Tiger has a tiger stripe outfit with black ears, a white yarn mane and a black tail. She has green eyes.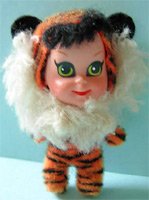 ---
Miss Mouse has a purple outfit with hot pink ears and bow and yellow yarn hair and tummy. She has blue eyes and a long purple tail.

---
Funny Bunnies came in Blue, Pink and Yellow. They have a ribbon tie, poseable ears, yarn hair and pompon tail and blue eyes. The inside of the ears and ribbon tie are done in contrasting colors - yellow on the blue Funny Bunny, orange on the pink and yellow ones.

Fashion Doll Guide Home » Kiddles » Animiddles