Chitty Chitty Bang Bang Kiddles
Chitty Chitty Bang Bang Kiddles were a set of four Kiddles made in 1969. They are packaged on a card that measures 10" X 9" that opens into a storybook. Each of the four dolls also has a stand included in the set.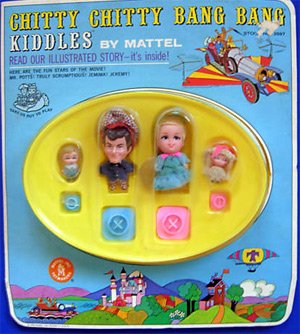 Chitty Chitty Bang Bang Kiddles Details
The set includes:
Truly Scrumptious is 2 inches tall and is wearing a long blue dress with sheer sleeves and a ruffled hem, an aqua blue vest and two clear seed beads and a pink bow. She has blue eyes and long rooted blonde hair pulled back at each side and tied on the top with an aqua bow. She is wearing aqua blue satin panties and has aqua painted on shoes.

Mr. Potts is 2 inches tall. He has molded brown hair and blue eyes and is wearing herringbone pants, a flocked blue velvet jacket with two clear seed bead buttons, a white faux shirt and collar with a black bow tie. He is also wearing a red, white and blue hat with vinyl trim and has black painted on shoes.

Jemima Potts is 7/8 inches tall. She has white painted body and black eyes. She is wearing a ruffled lace skirt with two pink painted buttons. and a wide brim straw hat tied with a pink ribbon. She has glued on ankle length blonde hair and black painted on shoes.

Jeremy Potts s 7/8 inches tall with blue eyes and glued on golden blonde hair. He has a painted blue body that appears as a suit topped by a blue flocked jacket with white cloth collar and painted on brown shoes.

This set can be very hard to find.

Fashion Doll Guide Home » Kiddles» Chitty Chitty Bang Bang