2008 Holiday Party Barbie
2008 Holiday Party Barbie is wearing a Christmas plaid dress in red and green with gold metallic straps, threads and trim. The hem of her dress has a layer of black fringe. She is also wearing gold earrings, necklace, shoes and handbag.

Barbie has the Fashion Fever style head mold (introduced in 2005). Her body is the Fashion Fever no-twist waist with a "belly button" (introduced in 1999).

The African American version of this doll is named Nikki.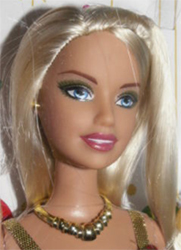 Fashion Doll Guide Home » Holiday Barbie » Holiday Party