Storybook Kiddles
The seven Storybook Kiddles were made in 1967 and 1968.  They all featured a storybook character.  They were all 3 1/2" tall and came with 24 page illustrated storybooks and props.  All of them have big blue eyes.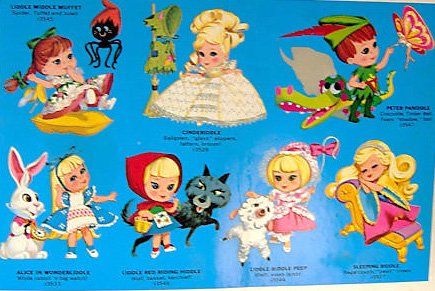 More about Storybook Kiddles individually...
With each doll came a story, and with each story came accessories.  Those accessories have in some cases surpassed the doll in value.  Here you will find individual details for all seven dolls from the Storybook series of Liddle Kiddles. 
---
Liddle Biddle Peep is the Little Bo Peep Kiddle from 1968. She is wearing a lace trimmed pink dress and bonnet and has blonde hair in a ponytail with sausage curls. She carries a white staff and has a little white chenille sheep. The sheep is made of moveable wire and has pink felt nose and ears, blue eyes and a pink ribbon bow. The stock number is 3544.

See Liddle Biddle Peep on eBay.
---
Peter Paniddle #6 or the Peter Pan Storybook Kiddles was made in 1968. He has reddish orange hair and has freckles. He is wearing a green tunic and tights with a red belt that holds a yellow plastic knife. He has a green hat with a feather. Peter is riding a green crocodile that has pink feet and mouth. of course Peter has Tinkerbelle, which is actually a tiny Barbie. She has blonde painted hair, a gold painted tunic and red glittery wings. Peter also has his shadow - it is made of gray foam. His style number is 3547.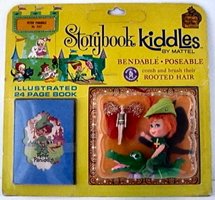 See Peter Paniddle on eBay.

---
Liddle Red Riding Hiddle is the Little Red Riding Hood Kiddle, complete with her own Big Bad Wolf, from 1967 and 1968. She has blonde hair with bangs and pigtails. She is wearing a blue felt skirt with an attached white apron and of course a red riding hood. She is carrying a straw tote with a red and white gingham cloth attached. The Wolf is made of wire covered gray chenille - so he is moveable. He has yellow and red felt eyes, black ears and a gray mouth. Her stock number is 3546.

See Liddle Red Riding Hiddle on eBay.
---
Alice Wonderliddle is the Alice in Wonderland Kiddle. She has blonde hair down to her ankles, bangs and a blue hair ribbon. She is wearing a blue and white dress, blue socks and white shoes. She comes with a white vinyl rabbit with a pink vest, a blue collar and a yellow ascot. He is holding a brass clock that is on a black ribbon. There is also a 24 page illustrated storybook. The Storybook Kiddles stock number is 3533 and it was made in 1968.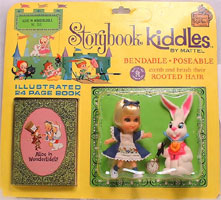 See Alice Wonderliddle on eBay.
---
Cinderiddle is the Cinderella Kiddle. She has platinum blonde hair done in a glamorous up-do. She came with two outfits - a glamorous ball gown made of white satin and trimmed with silver braid and net. There is also a "poor girl" dress - it is brown with different color patches and has a matching brown head scarf. There was also a Cinderiddle Play Set that had the kiddle and her outfits along with a vinyl palace case. She was made in 1968. The stock number for the doll is 3528, for the doll with the palace case is 5068.

See Cinderiddle Kiddle on eBay.
---
Sleeping Biddle is the Sleeping Beauty Liddle Kiddle made in 1968. She has her eyes closed (she is asleep after all), has rooted eyelashes and long blonde hair with bangs. She is wearing a tiara. It is most often made with a peach ribbon bow with a rhinestone or three pearl strands. A rare and hard to find variation is a tiara made of a gold bead ring. Her dress is dark pink velvet with aqua lined gold bell sleeves. She has a purple glittery belt that closes in the back with a purple bead. She is also wearing lace trimmed pink pantaloons and pink bow shoes. Sleeping beauty is reclining on her gold and purple lounger waiting for Prince Charming. Her stock number is 3527. There was also a play set that included Sleeping Biddle with a vinyl castle case with the stock number 5067.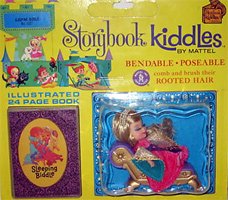 See Sleeping Biddle on eBay.
---
Liddle Middle Muffet - The Little Miss Muffet Kiddle was made in 1967 and 1968. She has braided auburn hair that is tied into a ponytail with green ribbons. She has a "tuffet" (pillow) - it is yellow, square shaped and has a button in the center (either blue or pink). She has a pink bowl and metal spoon and of course has a spider! The black spider has a wooden head and six pipe cleaner legs. he is wearing a red cap. Her Storybook Kiddles stock number is 3545.

See Liddle Middle Muffet on eBay.
---
You might also like: