Home

›
Liddle Kiddles

›
Original 24

›
Telly
Telly Viddle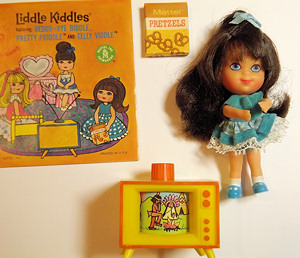 Telly Viddle #3751 (1968) was in the third series of original 24 Liddle Kiddles released in 1968.
Telly is 3½" tall and has dark brunette hair with bangs and blue eyes. Her eyes have an usual octagon shape (from watching too much TV maybe?).  The top of her hair is pulled back with a blue ribbon.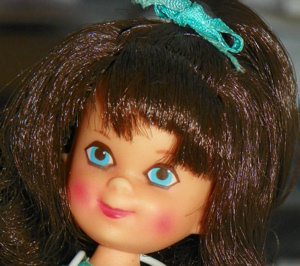 She is wearing a sleeveless dress with matching panties that came in two different colors/prints. One has an aqua blue faux-suede bodice with a full blue and white gingham checked skirt and a white lace ruffle. The other has a blue and white herringbone print on the skirt with a darker blue bodice. She has painted on white socks and blue T-strap shoes.
She came with a yellow and orange plastic TV set. It has a picture and a knob on top that turns to change the "station". She also has a pretzel box, just like the one from Barbie Baby Sits.
Telly is on the cover of her book along with Beddy Bye Biddle and Pretty Priddle. She did not come with a brush or comb.
Telly Viddle Accessories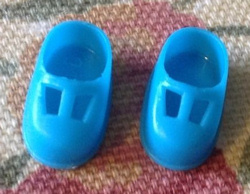 Blue T-strap Shoes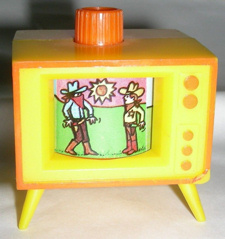 TV Set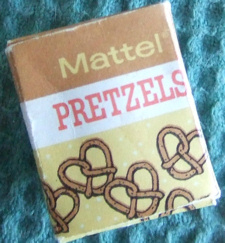 Pretzel Box

Here are the current listings:

---