Vintage Barbie Brides Dream
The Vintage Barbie Brides Dream is a beautiful wedding gown that has stood the test of time.  The short sleeved white satin dress featured a full overskirt with a tiered chiffon panel in the front that ruffled to the hem.  A delicate white ribbon bow at the waist and elbow length gloves completed the elegant look perfectly.  The bridal veil was the same as Wedding Day Set.  This exquisite wedding gown was and continues to be the epitome of style and fashion.
See Vintage Barbie Brides Dream on eBay.
Vintage Barbie Bride's Dream
#947
1963-1964

Bridal Gown
Veil with Pearls
Graduated Pearl Necklace
Long White Gloves
Blue Garter
Bouquet
White Open Toe Heels
Bride's Dream replaced Barbie's Wedding Day Set #972 (1959-1962).  I've always been partial to this one, as it is the one that my Barbie wore when she got married to Ken (over and over again). 

Vintage Barbie Bride's Dream is fairly easy to find in good condition.  Many of them are dingy to downright dirty, however I have had success in cleaning them.  The satin bodice seems to have aged to a gorgeous patina over the years on most I have seen - although it can be prone to snags in the beautiful fabric.
Vintage Barbie Brides Dream 
Collectibles
When a Barbie ensemble is something special, heads turn and everyone wants it.  Popular demand is the inspiration behind the collectibles shown below.  Each item represents the 1963 Bride's Dream ensemble in all its glory and beauty.
---
Barbie Bride's Dream Figurine.
In 1993, the Danbury Mint released a figurine featuring The 1963 Barbie Bride's Dream wedding gown.  One of twelve figurines created From The Classic Barbie Figurine Collection, it was hand painted and skillfully produced to replicate every authentic detail.  Each figurine included a Certificate of Authenticity that included the serial number and the name of the owner.
See Vintage Barbie Brides Dream Figurine on eBay.
---
Vintage Barbie Brides Dream
Musical figurine by Enesco.
In 1994, From Barbie with Love, came a porcelain bisque musical figurine featuring Bride's Dream 1963.  Part of the Glamour Collection, this limited edition figurine was a work of art from the delicate porcelain to the fabric details.  This masterpiece is hard to find in today's market.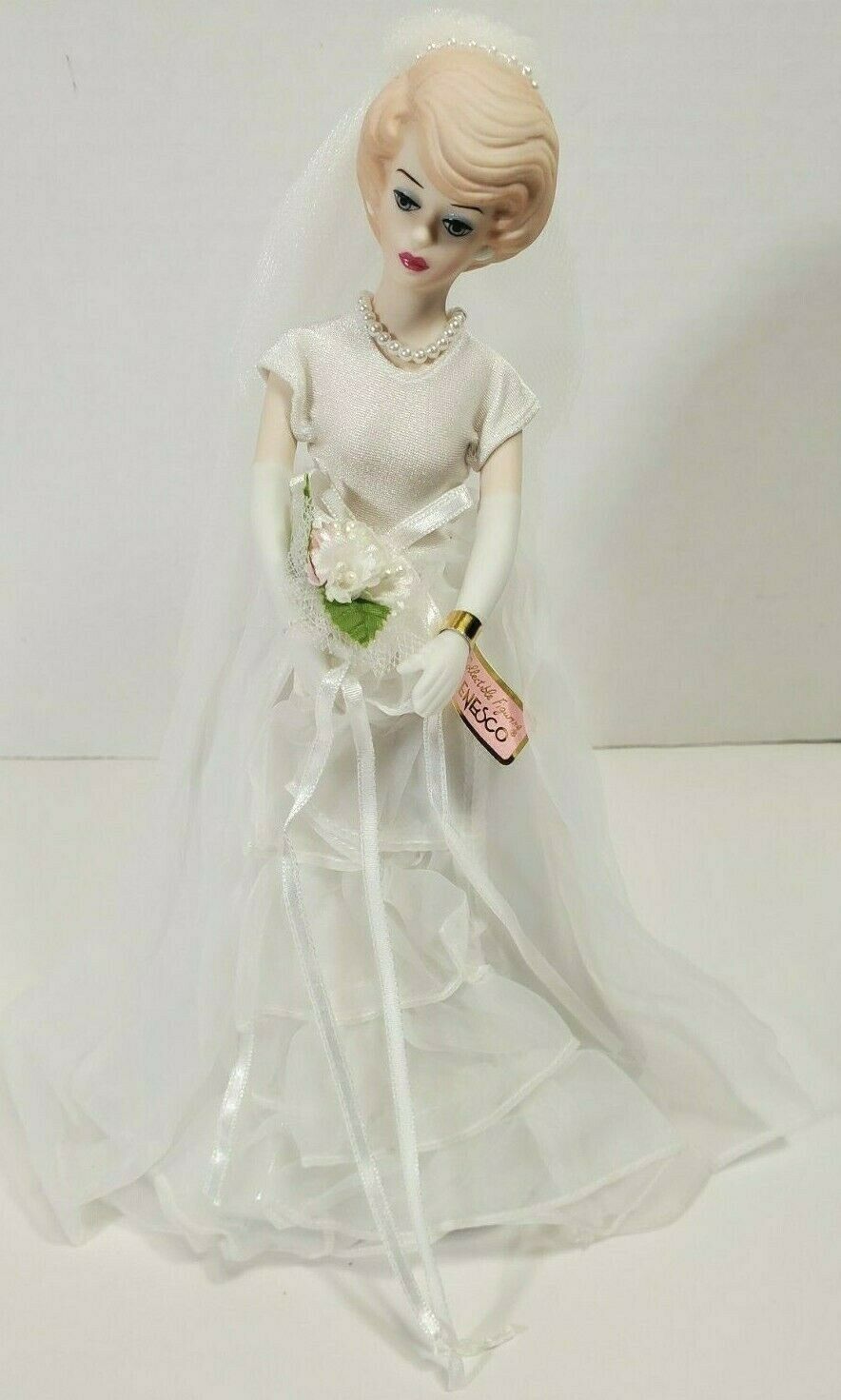 See Musical Figurine on eBay.
---
Bride's Dream Trading Card.
This trading card featured the 1963 Bride's Dream ensemble.  Fashion facts were listed on the back of the card that gave a detailed description of the gown and accessories, along with additional Barbie facts and random fun facts.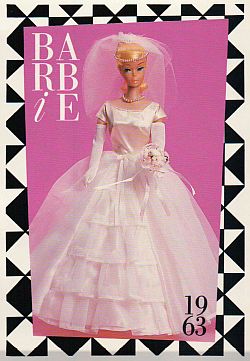 See Bride's Dream Trading Card on eBay.
---
You might also like: