Vintage Barbie Commuter Set
The Vintage Barbie Commuter Set exemplified the classic look of the late 1950's.  This ensemble included a navy blue cotton jersey collarless Chanel style jacket with a matching sheath skirt.  The skirt had a side zipper and a button closure.  Two blouses came with the set:  the casual nylon blue and white check body blouse for daytime wear; and an elegant white satin sleeveless body blouse for after five.
Vintage Barbie Commuter Set
#916
1959-1960
Navy Cardigan Suit Jacket
Navy Cardigan Sheath Skirt
Blue & White Nylon Body Blouse
White Satin Body Blouse
3 Flower Silk Hat Red or Bright Rose
Cardboard Hatbox
Crystal Necklace
Crystal Snake Bracelet
Short White Gloves
Navy Open Toe Heels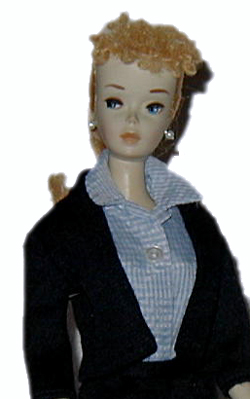 See Vintage Barbie Commuter Set on eBay.
A red or bright rose three-flower silk hat was included.  On both the red cardboard hatbox and the cloth label in the jacket, the Barbie signature was followed by a ™ in earliest sets and by an ® in later ones.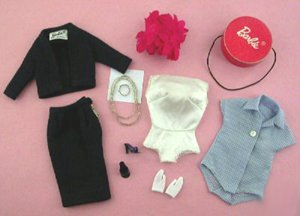 The crystal jewelry – a long necklace and snake bracelet were unique to this ensemble.  Although typically found with tricot short white gloves, some NRFB ensembles have been reportedly found with same white vinyl gloves from Peachy Fleecy.
Vintage Barbie Commuter Set Collectibles
Commuter Set Reproduction.
Mattel issued a Commuter Set Reproduction in 1999.  A Collector's Request reproduction of a blonde #1 ponytail Barbie wearing the Commuter Set #916 ensemble, it was second in the series.
See Vintage Barbie Commuter Set Reproduction on eBay - Amazon.
---
Hallmark Keepsake Ornament.
In 1999, Mattel licensed Hallmark to create a set of two ornaments.  Seventh in the Barbie Ornament Series, the set included Barbie wearing Commuter Set and Hatbox ornament.  Sculpted by Patricia Andrews.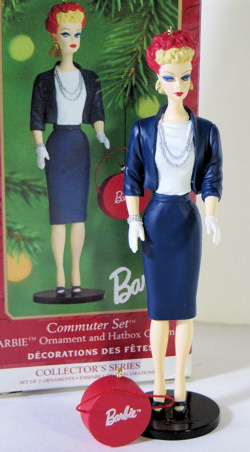 See Commuter Set Barbie Ornament and Hatbox Ornament on eBay - Amazon.
---
American Greetings Heirloom Ornament.
In 2014, American Greetings issued a Heirloom Ornament Commuter Set Barbie.  Described on the back of the box as...She is wearing Commuter Set (#916) a classic look of the late 1950's.  Barbie is ready for a day in the city!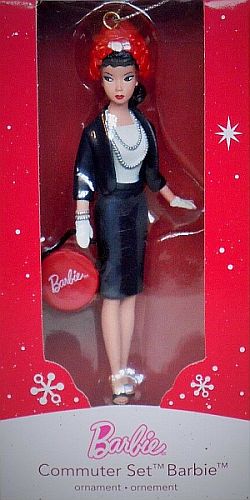 See American Greetings Commuter Set Barbie Ornament on eBay.
---
Fashion Frames Wall Decor.
This limited edition Fashion Frames Wall Decor showed off the Commuter Set ensemble with artistic flair.  A reproduction of vintage Barbie Commuter Set is displayed on a mannequin against a pale pink and white matte.  Along with the navy suit and white blouse, the set included white gloves, open toe heels, hat, red hatbox, necklace and bracelet.  The black wooden frame completed this beautiful wall decor.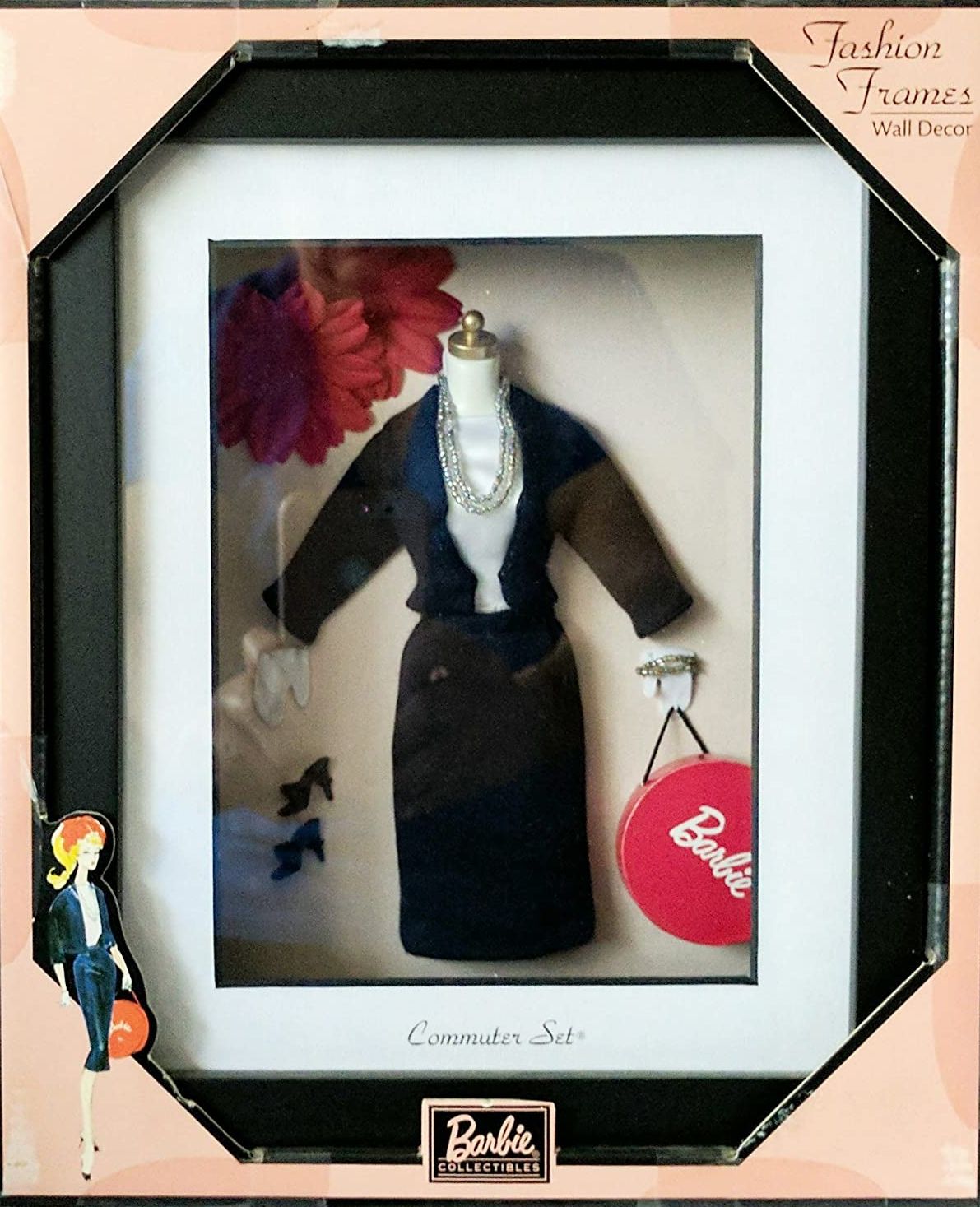 See Commuter Set Fashion Frames Wall Decor on eBay - Amazon.
---
You Might Also Like: