Vintage Barbie Cotton Casual
Vintage Barbie Cotton Casual #912 was included in the first Barbie fashions of 1959.  Although Barbie had several strapless dresses and several casual dresses her debut year, this is the only strapless casual dress in that first collection.  The original retail price was $1.00.

Vintage Barbie Cotton Casual
#912
1959-1962

Strapless Navy & White Stripe Sundress
White Open Toe Heels

Barbie's casual strapless navy and white striped cotton sundress features a full skirt and two ribbon bows - one in orange and one yellow.  The bodice has a snap closure in the back.  Her white open toe shoes completed the ensemble.


All Cotton Casual dresses should have the black and white fabric Barbie tag. The dresses made in 1959 will have a TM after the Barbie name. Dresses made in 1960-1962 will have the ®.




See Vintage Barbie Cotton Casual on eBay.


More Vintage Barbie Cotton Casual
This ensemble was not a complex one, consisting only of the sunback dress and open-toe shoes.  The dresses are fairly easy to find – the navy and white striped cotton holds up very well. The areas most prone to wear – and the hardest to find in mint condition – are the ribbons that tie into bows. Frequently they will be broken, faded or missing.

---
The Vintage Barbie Cotton Casual ensemble was included in the 1961 Barbie and Ken Booklet.  These miniature catalogs came with the dolls and the outfits at the time of purchase and were a creative way to advertise Barbie's extensive wardrobe.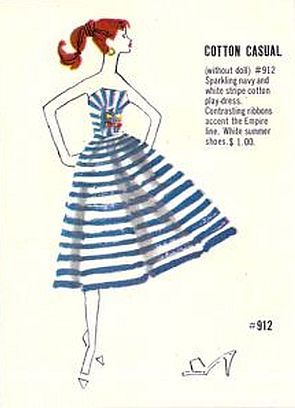 ---
You might also like: