Vintage Barbie Garden Party
Vintage Barbie Garden Party was one of eight new ensembles added in 1962.  Barbie's wardrobe was changing to include more casual looks and Garden Party was the perfect fit.  This crisp pink and white dress is such a pretty classic sundress, featuring pindots, flowers and an eyelet panel in the front.
Vintage Barbie Garden Party
#931
1962-1963
Pink & White Floral Dress
Short White Gloves
White Open Toe Heels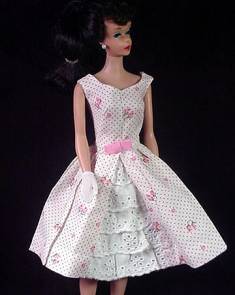 This beautiful dress has a full skirt and snaps in the back. The cotton is sturdy and it holds up very well and is fairly easy to find in good condition. Occasionally you can find one that is pristine mint (like the one pictured) - pure white and so crisp it will stand up on its own. The dress should have the pink ribbon at the waist - it is often missing from "played with" dresses.
More Vintage Barbie Garden Party Collectibles
In 1964, a new Barbie dress was issued that was made from the same pattern as Garden Party, but was from a different fabric.  It was called Garden Tea Party #1606 and was made from a red floral fabric with a black ribbon at the waist.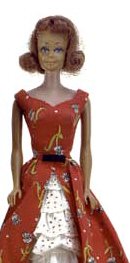 ---
Trading card.
In 1990, a trading card featuring the Vintage Barbie Garden Party ensemble was issued.  On the back of the card, there was a brief description of the outfit, along with Barbie facts and fun facts that were relevant in 1962.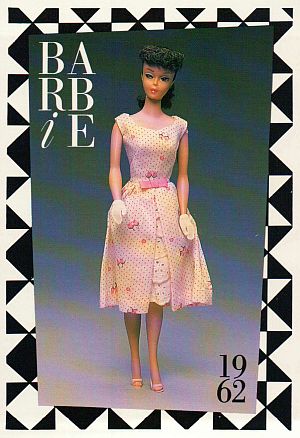 ---
In 2000, Garden Party Fashion was released.  This beautiful rose print organza dress, pink cardigan, straw hat and handbag was designed especially for the Silkstone Barbie doll body.  Part of the Barbie Fashion Model Collection
You might also like: