Vintage Barbie Red Flare
Vintage Barbie Red Flare is a classic, almost definitive, vintage ensemble.  With its swing coat and pillbox hat, it was obviously inspired by the style queen of 1962, first lady Jackie Kennedy. This ensemble is fairly easy to find.  It was made for three years and they always seem to be in plentiful supply. The swing coat has a beautiful pure white satin lining. The red velvet envelope purse has a tiny rhinestone closure and it is also lined in white satin. 
More Vintage Barbie Red Flare Collectibles
When an outfit is popular, it tends to make an appearance in multiple places.  It's those variations that spur the interest of Collectors and makes finding them all a challenge gladly accepted.  From Barbie doll cases to a coordinating frock for Skipper, the Vintage Barbie Red Flare ensemble was celebrated in style.  We hope you enjoy exploring the collectibles listed here.
---
This ensemble is frequently paired with the Silken Flame ensemble from 1960 – 1961. Mattel issued a reproduction of the pair in 1998.  It was the first reproduction issued with the bubblecut hair style.

See Vintage Barbie Red Flare Reproduction on eBay - Amazon.
---
Barbie's younger sister, Skipper, had her own wardrobe that included some child-size replicas of big sister.  Skipper's coordinating ensemble of Vintage Barbie Red Flare is Dress Coat #1906 (1964 - 1965).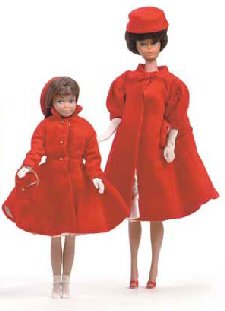 See Skipper Dress Coat on eBay
---
The Vintage Barbie Red Flare ensemble was featured on the front of vinyl doll cases in 1963.  The black and white versions are easiest to find with the blue and red being more rare.  Vintage Barbie doll cases are popular with Collectors as they provide storage space for Barbie's tremendous wardrobe.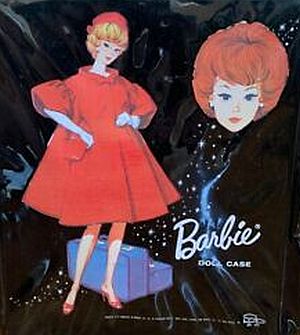 See on eBay.
Fun Fact:
The Vintage Barbie Red Flare outfit was also issued in yellow. 
Did they forget that red was in the name?  
See on eBay.
---
In 1998, a Hallmark Keepsake Ornament was issued called Silken Flame and it was fifth in the Barbie Ornament Series.  Barbie wears a combination of two favorite fashions, the Red Flare coat and the Silken Flame dress.  Her bubblecut hair style also takes inspiration from the sixties.  This ornament was sculpted by Patricia Andrews.
---
You might also like: