Windy Fliddle
Windy Fliddle #3514 (1967) is 2⅞" tall and has chin length blonde hair and blue eyes.  Her body is marked : 1965, Mattel, Inc. Japan.
Windy Fliddle Details
Windy was in the second series of ten of the original 24 Liddle Kiddles.  Her stock number was 3514 and she was released in 1967.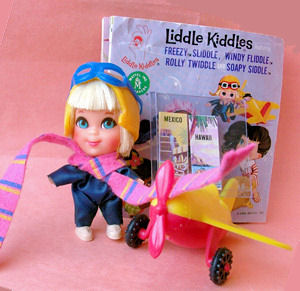 ---
She is wearing a dark blue vinyl jump suit and a yellow helmet with attached blue goggles.  She has a long pink felt scarf with blue and yellow stripes and uncut white T-strap shoes.  You may see red, pink, orange and other color goggles listed from time to time.  These do not belong to Windy - they are from clone kiddles - cheaply made "generic" dolls. 

| | | |
| --- | --- | --- |
| Pink Scarf | Blue Goggles | Uncut White T-strap shoes |
---
She came with a yellow and red airplane.  The top can be either red or yellow and the bottom will be the other color.  The propeller will be the same color as the bottom color.  Her plane also has black wheels and is marked Liddle Kiddles on one of the wings.
---
She also has two tiny paper maps that were attached to her card.  They are for Mexico and Hawaii.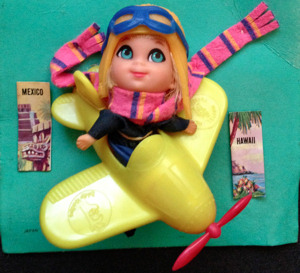 ---
Windy is on the cover of her book along with Rolly Twiddle, Freezy Sliddle and Soapy Siddle.  She came with a pink brush and comb.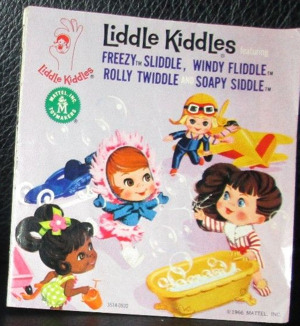 Notable Windy Fliddle Sales
This Windy is still on her display card.  Although the card is damaged, she sold for $250 in May 2014.  
---
This doll and plane sold for $50 in June 2014.  Although the doll is in excellent condition, she is missing most of her accessories.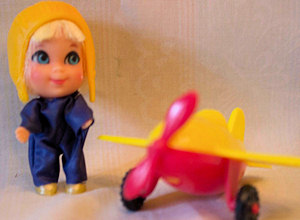 ---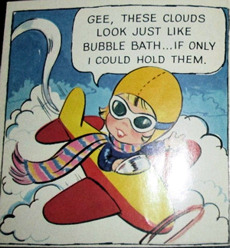 ---
You might also like: