35th Anniversary Vintage
Midge Doll Reproduction
1997 35th Anniversary Vintage Midge Doll Reproduction
This 1997 gift set was a Toys R Us exclusive.  It was issued in honor of Midge's 35th birthday/anniversary and includes reproductions of a vintage redhead Midge Doll (complete with original swim suit and box) and the vintage ensemble Senior Prom #951 (1963-1964).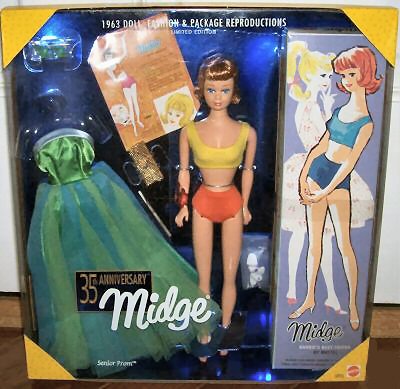 This doll was never super easy to find and is becoming harder and harder to acquire (and therefore more expensive!).
This is the only Midge Doll reproduction that has been done.
Fashion Doll Guide Home » Vintage Barbie Reproductions » Midge Reproduction