1968 Vintage Skipper Clothes
1968 Vintage Skipper Clothes included eight brand new ensembles along with the introduction of Twist 'n Turn Skipper Doll. None of the ensembles from previous years were carried over and none of these fashions from 1968 were continued into 1969. Some of these ensembles and accessories can be hard to find because they were only made for one year. In addition to the regular eight fashions, there were two Sears Exclusive Gift Sets - one that included a TNT Skipper doll and one that was clothing only.
1968 Vintage Skipper Clothes
Who doesn't love new clothes?  1968 vintage Skipper clothes were only issued that one year and not repeated, fueling Collectors to find them all.  Here you will find the details on each outfit as well as a picture.
---
Baby Dolls #1957 (1968)
Pink 2-piece Shortie Pajama Set with White Lace Trim and Hot Pink Bow
Hot Pink Slippers
Fuzzy Pink Scale
Pink Or Yellow Comb and Brush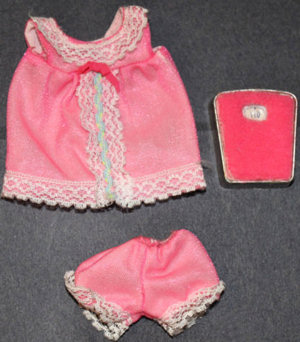 See Baby Dolls on eBay.
---
Patent 'n Pants #1958 (1968)
Red Vinyl Jacket with Gold Buttons and Red and Blue Polka-dot Lining
Jumpsuit with Red and Blue Dots on White Top
Blue Pants and Red Vinyl Belt with Brass Buckle
Red Flat Shoes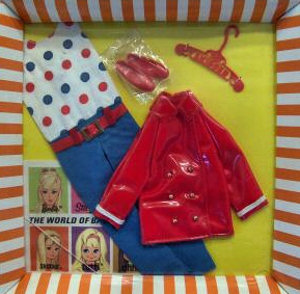 See Skipper Patent 'n Pants on eBay.
---
Posy Party #1955 (1968)
Blue, Pink, Yellow and White Floral Print Dress with White Lace Cuffs
Hot Pink Ribbon Belt with Bow
Hot Pink Petti-pants with Floral Print Ruffled Legs
White Lace Nylons
Hot Pink Flat Shoes
Chocolate Sundae
Silver Spoon

There is a rare variation of the dress - it is a lighter blue,
it actually looks like a faded version of the dress.

See Posy Party on eBay.
---
Quick Change #1962 (1968)
Light Blue, Orange and Hot Pink Knit Sweater with Gold Buttons
Orange and Blue Pleated Skirt
Light Blue Shift
Pink Knit Stockings with Orange Tassels
Pink or Orange Flat Shoes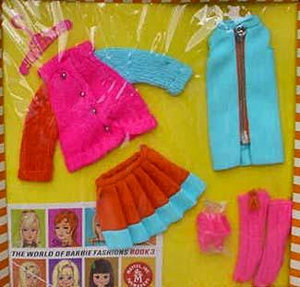 See Quick Change on eBay.
---
Real Sporty #1961 (1968)
Yellow Romper with Pink Plastic Chain Link Belt
Yellow Short Jacket
Hot Pink Lace Nylons
Hot Pink Ankle Boots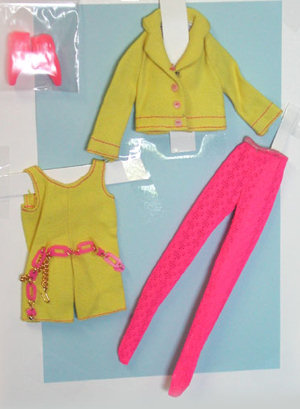 See Real Sporty on eBay.
---
Skimmy Stripes #1956 (1968)
Orange Knit Sweater Dress With Hot Pink, Yellow, Green Stripes
Matching Striped Knee Socks
Orange Felt Cap
Green Glasses
Orange Ankle Boots
Black Book Strap With Red Pencil, Tan Pencil, Arithmetic Book, English Book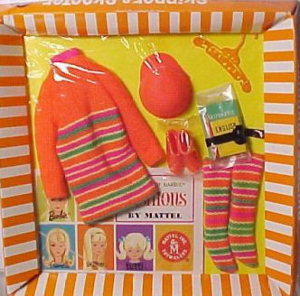 See Skimmy Stripes on eBay.
---
Trim Twosome #1960 (1968)
Orange, Pink, Yellow And White Striped Sleeveless Dress With Three Gold Buttons
White Crinkled Coat With Pink And White Belt With Brass Buckle
Orange Purse
White Flat Shoes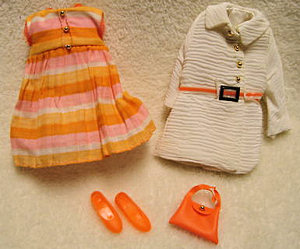 See Skipper Trim Twosome on eBay.
---
Warm 'n Wonderful #1969 (1968)
Lime and Blue Striped Knit Mini-dress
Lime Green and Blue Color Block Plush Coat with Lime Vinyl Trim
Blue Plastic Cap
Lime Fishnet Nylons
Lime Green Ankle Boots or Blue Knee Boots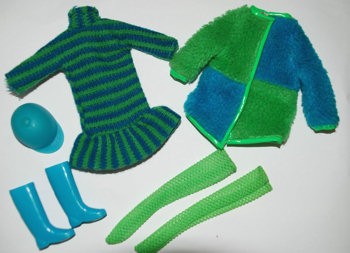 See Skipper Warm 'n Wonderful on eBay.
1968 Vintage Skipper Dolls Sears Exclusives
---
Confetti Cutie (1968)
Sear's Exclusive

Yellow Mini-skirt Jumper with Two Gold Buttons and Gold Chain Belt
Turquoise and Yellow Checked Mock Knit Turtleneck
Matching Checked Knee Socks
Turquoise Riding Hat
Yellow Ankle Boots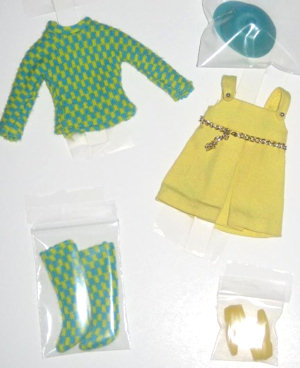 See Skipper Confetti Cutie on eBay.
---
Skipper Perfectly Pretty Set
Sears Exclusive #1546 (1968)
This is a very hard to find Sears Exclusive Gift Set from 1968.
It included a TNT Skipper wearing her one piece blue and pink skirted swimsuit
and an exclusive ensemble that included:
Sleeveless Dress with Dropped Waist with a White Cotton Bodice and a Ruffle
created with Ribbon and Lace, Hot Pink Ribbon Belt and Turquoise Blue Velvet Skirt
Turquoise Blue Velvet Empire Waist Coat with Matching Vinyl Belt and Gold Buckle
Turquoise Velvet Bonnet Style Hat with Ribbon Tie
Turquoise Flat Shoes
This set is considered very rare and is therefore quite valuable.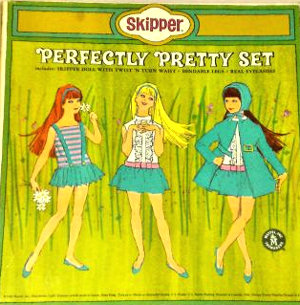 See Skipper Perfectly Pretty Set on eBay.
---
You might also like: