Vintage Barbie Knitting Pretty
Vintage Barbie Knitting Pretty was made for two years in two different colors.   In 1963, the royal blue version replaced the similar Sweater Girl that was one of Barbie's original ensembles.  Then in 1964, the same outfit was issued in pink.  The pink is the rarest, and therefore the most valuable, of the three similar ensembles.  While not as rare as the pink, the Royal Blue is harder to find than the original Sweater Girl.  Here you will find information on this iconic outfit.
Vintage Barbie Knitting Pretty #957 (1963 - 1964)

1963

Royal Blue Cardigan Sweater
Royal Blue Sleeveless Shell 
Royal Blue Flannel Sheath Skirt 
Black Open Toe Heels 
How To Knit Book
Bowl of Yarn with Needles
Metal Scissors

1964

Pink Cardigan Sweater
Pink Sleeveless Shell 
Pink Flannel Sheath Skirt 
Pink Open Toe Heels 
How To Knit Book
Bowl of Yarn with Needles
Metal Scissors



Vintage Barbie Knitting Pretty
Included These Knitting Accessories:

Wooden Bowl with Glued In Yarn

Two Knitting Needles

Pair of Functional Scissors

Red Cover "How to Knit" Book by Barbie

See Vintage Barbie Knitting Pretty on eBay.


Good to know...
With all three ensembles, it is difficult to find the sweaters intact.  Most of them have varying degrees of holes, the wool just does not hold up. The skirt is the easiest to find, as is the yarn bowl. The tiny scissors and book can be hard to find.
More Vintage Barbie Knitting Pretty Collectibles
Often times, Skipper's wardrobe took inspiration from Barbie's.  Skipper's School Days #1907 (1964 - 1965) ensemble was made as a matching coordinate to Barbie's Knitting Pretty.  It was perfectly in line with Big Sister and age appropriate for Skipper.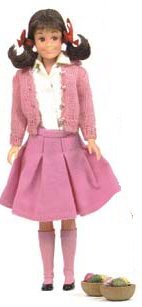 See Skipper School Days on eBay. 
---
Skipper had her own clothing line, so it became a necessity that she have her own carrying case.  In 1964, Mattel issued a vinyl Skipper Carrying Case.  It featured a large Skipper doll wearing School Days that was carefully coordinated to match Barbie's Knitting Pretty ensemble.  The two smaller dolls were wearing Red Sensation and Dress Coat.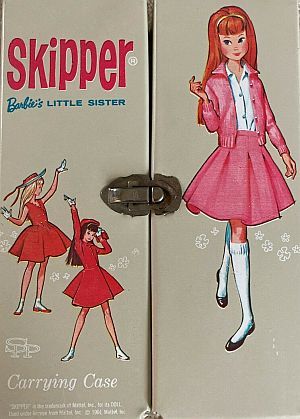 See Vintage Skipper Carrying Case on eBay.
---
The sister relationship between Barbie and Skipper was a continual source of inspiration for fashion designers.  In 2007, a Pink Knitting Pretty Reproduction was included in the Barbie & Skipper Knitting Pretty Gift Set, which also included the first Skipper Doll Reproduction.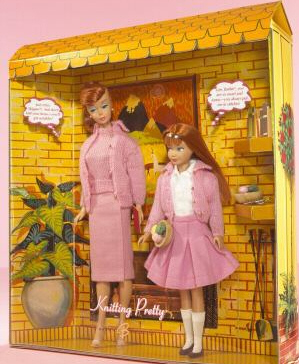 ---
A Knitting Pretty Collectible Fashion Trading Card was issued in 1964.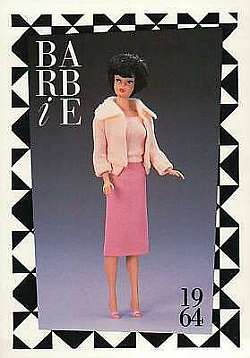 See Knitting Pretty Collectible Trading Card on eBay.
---
If you like to knit, there are many Barbie knitting patterns for fashion dolls available.  With easy to follow directions, choose patterns based on your personal skill set.  From wedding gowns to matching outfits for doll and girl, knitters really love making them and girls love receiving them.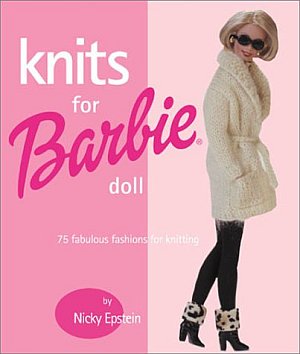 If you don't have time or the desire to knit your own Barbie outfits, there are many handmade knitted Barbie outifts available online.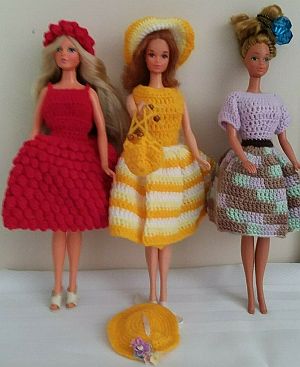 ---
---