Vintage Barbie Roman Holiday
Vintage Barbie Roman Holiday is one of three ensembles that were made only in 1959 and is therefore very rare.  This outfit was included in the first Mattel flyer and was found only in the 1959 catalog.  The design was carefully tailored and authentic in every detail with an original retail price of $4.00  


See Vintage Barbie Roman Holiday on eBay.


Vintage Barbie Roman Holiday included a tiny brass compact - one of the "holy grails" of vintage doll collecting.  Only 3/8" in diameter, this highly sought treasure is engraved with the famous "B" on top.  It is hinged and contains a mirror and a tiny pink puff.

Vintage Barbie Roman Holiday Collectibles
Even though this ensemble was made only one year, it was well represented in collectibles.  Vintage Barbie Roman Holiday was beautifully portrayed in everything from Christmas ornaments to a 1994 reproduction.  Taking inspiration from the past, these collectibles have become Collector favorites.
---
2007 Roman Holiday Barbie Ornament.
This Hallmark Keepsake Ornament was number fourteen in the Collector's Series.  Once again, the Vintage Roman Holiday ensemble was impeccably represented by the artist, Patricia Andrews.
See Barbie Roman Holiday Ornament on eBay or Amazon.
---
1994 35th Anniversary Reproduction.
Mattel issued a reproduction of this ensemble in the 1994 35th Anniversary Gift Set.  Along with Roman Holiday, the set included a reproduction of Barbie's Easter Parade outfit and a vinyl reproduction of the 1959 Barbie doll.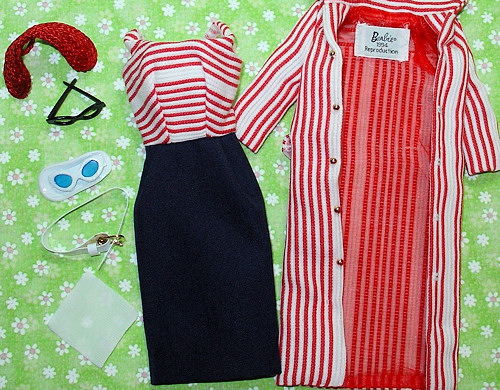 See 1994 35th Anniversary Reproduction on eBay and Amazon.
---
1993 Enesco Fashion Collection Figurine
From Barbie with Love, came this beautiful porcelain figurine wearing Roman Holiday, one of the most popular fashions of 1959.  Each figurine came with a serial number marked on the bottom, along with a Certificate of Authenticity.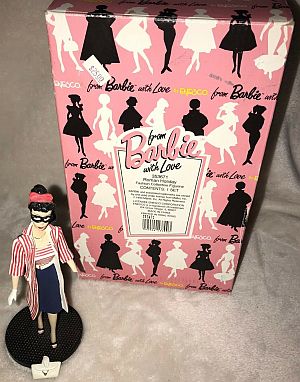 See From Barbie With Love Porcelain Figurine on eBay.
---
Collectible Barbie Roman Holiday Plate
From Barbie with Love, came this Roman Holiday 1962 Collector's Plate that was produced in 1993 by Enesco.  These 4.25 inch mini plates came boxed with an easel included.
See Barbie Roman Holiday Collectible Plate on eBay.
---
You might also like: