Vintage Barbie Sheath Sensation
The Vintage Barbie Sheath Sensation ensemble was made from 1961-1964.  The striking red and white sheath dress was accessorized with a straw hat and short white gloves.  It was perfectly in line with the style of the time, the foundation of Barbie's wardrobe.  
Vintage Barbie Sheath Sensation
#986
1961-1964

Red Sheath Dress
Straw Hat with Red Ribbon
Short White Gloves
White Open Toe Heels

See Barbie Sheath Sensation on eBay.
This vintage classic is easy to find – usually in great condition. If the gold beads have darkened, they can be easily replaced if you desire. The dress has snaps for closure in the back and should have the black & white cloth tag. The straw hat is very difficult to find un-frayed and with the ribbon un-faded. The straw hat should also have a headband inside that fits over Barbie's head. The shoes and gloves are fairly easy to find.

Vintage Barbie Sheath Sensation Collectibles
Always following the latest trends, the Barbie Sheath Sensation was a popular fashion that represented a more casual look.  It became so popular that it was re-imagined in a variety of fabrics and colors in later years.   Here you will find collectibles that honored the Sheath Sensation ensemble. 
---
Red Sensation for Skipper.
When a particular outfit found success with Barbie, it was not uncommon for Skipper to have her own age appropriate version of the same.  Skipper's matching ensemble to Barbie's Sheath Sensation is Red Sensation #1901 (1964 - 1965).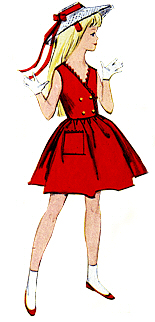 ---
Barbie & Skipper Carrying Case.
In 1964, a wardrobe style case was issued featuring Barbie wearing Sheath Sensation #986 and Skipper wearing Red Sensation #1901.  The left side of the trunk held two dolls and the right side and middle section held clothing and accessories.  There were two versions of the interior of the cases...one was white and one had a bright flowery lining.  This vinyl trunk was produced in blue, beige and yellow.  The original selling price was $3.88.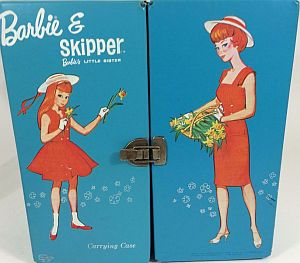 See Barbie & Skipper Doll Trunk on eBay.
---
Hallmark Keepsake Ornament.
In 2004 and in celebration of Barbie's 45th anniversary, a Hallmark set of three figurines was issued.  This Friendship, Fashion and Fun collectible set included Barbie Sheath Sensation (Friendship), along with After Five #934 (Fashion) and Silken Flame #977 (Fun).  While the complete set is a great addition for a collector, figurines can be found sold separately.  
See Vintage Barbie Sheath Sensation Figurine on eBay.
---
Hallmark Photo Holders.
In 2004, Hallmark also released a set of three photo holders to celebrate the 45th Barbie Anniversary.  The set featured three mannequins dressed in After Five, Sheath Sensation and Belle Dress.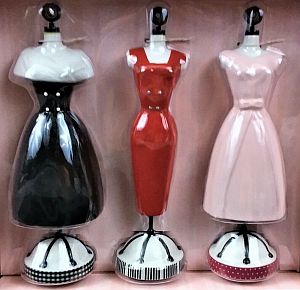 See Hallmark Photo Holders on eBay.
---
You Might Also Like: