Please help identify this American Girl Barbie
by robin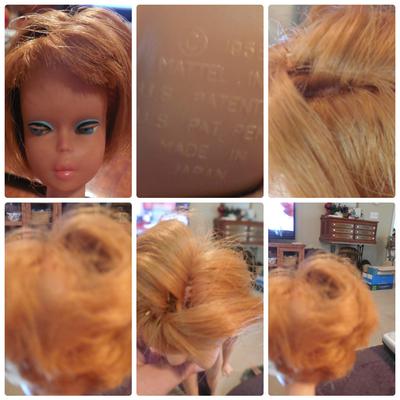 I am listing a huge lot of vintage Barbie items, (dolls, clothes, accessories).
This particular Barbie appears to be an American girl Barbie.
Due to the look of her hair, and a definite part, I was wondering if she is the sought after side part American Girl?
Obviously I don't want to list it as the wrong thing.
She has a distinctive part on her left. Then if you pick up the hair at the part, there is a bald area to right, so the hair lays over it.
There is a small section of hair that seems to be confused, and lays across the part, toward the right, but looks as if it is made to go to the left.
I have included pictures, and hopefully someone can help me identity this correctly.
Thank you.
Please help to identify!
by Wilma
(Germany)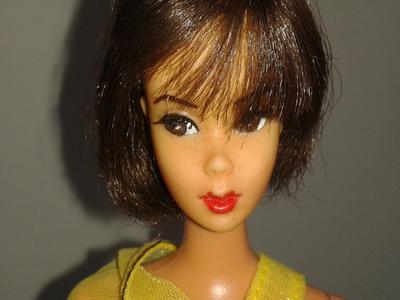 Hi,

Just bought this new barbie, but I cannot identify her. Does anyone know who she is? She has bendable legs and is marked as: 1966 mattel inc u.s. patented, u.s. pat pend, made in korea.

Thank you very much!
Barbie Ponytail Identification Help?
by Dean
(Lisle, IL USA)
Hi, I have a one owner Barbie that was purchased new, but I need help identifying it. She has blue eyes, brown brow, less curved eyebrows, no hole in feet. She's brunette with short hair (was it cut by the owner?) in a ponytail, wrapped with a tiny rubber-band which is disintegrating. Her right buttock says:
Barbie
Pats.Pen
(c)MCMLVIII
by
Mattel
Inc

The "e" in Barbie and the "n" in Pen fade away. I cannot see any sign that there is a T.M. after Barbie.

Her left buttock has an "8" or a "B" on it.

She does not feel hollow. Her skin from the torso up is a little darker than her legs. She does not look ivory at all, but a flesh color. She has to be a 3 or 4, but which one? Thank you for your help, you have a wonderful website.

Hi Dean-
If she has tan skin, she is most likely a #4 -
Vintage Barbie Ponytail Comparison Guide.
Suzanne

question about copper tubes & hair color variation on Vintage no. 1 Barbies
by Monica
(Bay Area, CA)
The question concerns a # 1 ponytail that I recently purchased. She is very nice, but I noticed that the copper tubes in her feet are either missing or pushed in so far that they aren't visible. I was wondering whether anybody out there knows how great a reduction in value the "missing" tubes might cause. Also, her hair, while very nice, is a different shade of blond that most no. 1 Barbies that I have seen (including anther no. 1 that I own) as well as all of my no. 3s (don't know if 3s had different shades than 1s). So I am wondering whether blond vintage no.1 Barbies came in different shades of hair color. This one is slightly more "ashy", definitely not honey or gold colored like I am used to seeing.

Thanks in advance for any information!
Question about vintage Barbie dolls - Does Size Matter?
by Mary
(Ohio)
I have recently begun to collect vintage Barbies. Some of the dolls (supposedly from the 1960's) say made in Japan etc. Some of the dolls I have purchased are 11 and 1/2 inches tall and some of the dolls are 12 inches tall. Were the dolls made in different years, different versions of the same dolls?

Thanks.
Question about Identifying Vintage Barbie
Hello, I Just Purchased This Barbie At A Sale And I Don't Have A Clue About Barbie Dolls Other Than She Is Pretty. She Has The Hard Eyes With Blue Eyeshadow And Red Lips As Well As The Red Dot Under Each Nostral. She Has Painted Toenails But Doesn't Have Holes In The Bottom Of Her Feet. She Has Cotton Soft Golden Blonde Hair That Is Braided And Put On Top Of Her Head With Very Soft Curly Bangs. Her Hair Is Neatly Put Up On The Top Of Her Head So I Am Not Sure If This Is Factory Or Not. She Has Very Pretty Flesh Color With Straight Legs. I Haven't Removed Her Gloves As I Wanted To Take Pictures Of Her With Them On First. She Doesn't Have Earings In But On Each Earlobe She Has A Hole Dot But I Am Not Sure If It Goes Thru. She Dosn't Have Green Ear As I Have Been Reading About Since I Bought Her. Her Dress Is Tagged And Is Soft Pink With White Swiss Dots And She Is Wearing Panty Looms Underneath. She Has On One Pink High Heel. She Is Wearing Short White Gloves. The Doll As Well As Her Outfit Is In Wonderful Condition. My Hubby Can Only Make Out Barbie Pat. Pending Than Roman Numerals And Made By Mattel Or For Mattel. On Her Left Buttocks It Has 56? Any Information About This Pretty Barbie Will Be Greatly Appreciate. Thank You So Very Much. Shirl

Hi Shirl -
You have a Vintage Ponytail Barbie Doll - here is a chart that details the different "versions" Vintage Barbie Ponytail Comparison Guide.
Sounds like she may be wearing Plantation Belle.

Suzanne

American Girl body 1958 Japan. Is this the right head?
by Anna
(Nashville)
The body says
© 1958
MATTEL, INC.
U.S. PATENTED
U.S PAT. PEND
MADE IN
JAPAN

on the right buttox. The left one has the number 5. Painted nails, bendy legs that click, rooted eyelashes. The head just doesn't look right. I got her at a yard sale along with a TNT Francie and a Malibu Skipper.

Is it a Kelly or a Stacey? What is she?

Hi Anna -
It is an American Girl body, I don't recognize the head right off - we'll see if anyone else can recognize her -
Suzanne

how to recognize vintage bendable barbie legs?
by Ces
(Italy)
I have miss Barbie legs marked Japan under foot. I also have miss Barbie without marking under foot and with USA.

How can I recognise the bendable legs for miss Barbie, American girl, Midge and Color Magic. Also for vintage Ken, Allan and Skipper.

How are the Malibu legs marked?

Thanks
Is this Barbie?! My mom assured me it was as a girl ....
by kaz
(new zealand)
But she has absolutely no markings/trademark stamps on her face, neck or body. She has a swivel waist, bendable legs and l shaped arms as well as earring holes (missing) and a ring hole (ring missing) on her right hand. I have a vague memory of a lace wedding gown but could have been my mom sewed it and pretended it was from the store!

I have searched through websites and think she looks most like 1977 superstar barbie? But her face seems wider, with slightly chubbier cheeks....!

She has bright blue eyes, bright blue eyeliner and a smile showing teeth.

I played with her in the 80s but think she was a hand me down and not purchased then...

Any help would be much appreciated!