Home

›
Midge Dolls

›
Straight Leg
Vintage Straight Leg Midge Doll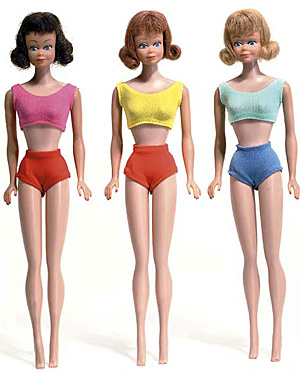 Doll Name: 
Vintage Straight Leg Midge Doll
Model #: 
860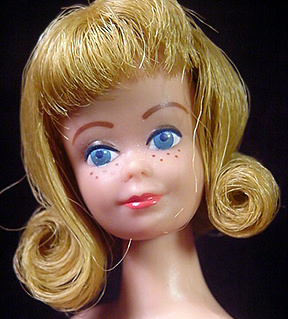 Box Date: 
1962
Issue Date: 
1963 to 1966
Hair Colors: 
Blonde, Red / Titian, Brunette
Face: 
Blue eyes, light brown eyebrows, coral lips, freckles
Clothing: 
2-piece knit swimsuit - the colors were different for each hair color: 
Blonde - Light blue top, medium blue bottom, 
Red / Titian - Yellow top, Orange bottoms
Brunette - Pink top, Red bottoms 
White open toe heels
Stand: 
Black or Gold Wire Stand
Body Markings: 
Midge T.M. 
©1962 
Barbie® 
©1958 
by 
Mattel, Inc. 
(In 1964 added the word "Patented")
Notes: 
Is sometimes called SL (straight leg) by collectors to differentiate from other Midge dolls.
Variations include: 
Different lengths of hair 
With Painted Legs
Different shades of brown eye shadow (light to dark)
It is speculated that the first Midge dolls came in the blue headband box and had teeth - partially verified by this video:
---
Midge Gift Sets
Straight Leg Midge had two of her own gift sets and was also included in four other Barbie gift sets in 1963 and 1964.
1964 Midge Mix 'n Match Set
This set is a mystery - I cannot find this set in any of the reference books I own, other than mentioning it by name in two books.  I have NO idea what was in it - The few online references and eBay listings all have different clothing attributed to it.  The most reliable I have seen, Theriault's, has it pictured with Pink Knitting Pretty and Garden Party dress.
It was suppose to be a Sear's Exclusive, but it is not listed in the Sear's Christmas catalog in 1963 or 1964.  The 1964 Sear's Wishbook has the Midge Ensemble Gift Set.  If you have a reliable reference, please email me!
Barbie Gift Sets That Included SL Midge
1963 Fashion Queen Barbie and Her Friends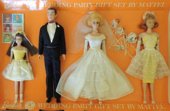 1964 Barbie Wedding Party
1964 On Parade
---
Straight Leg Midge Reproductions
---
Japanese Midge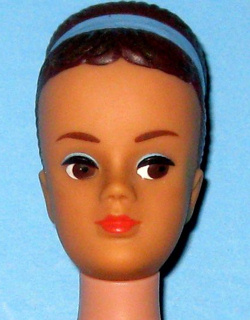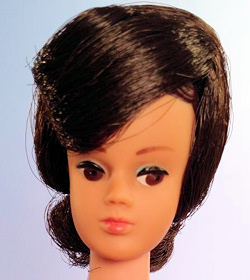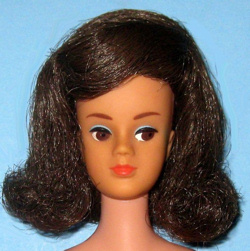 It seems the Japanese market didn't care for the traditional Midge, so they made one of their own.   She was named "The New Midge" and was sold only in Japan in 1965 and 1966.
She has blue eye shadow and much smaller lash ridges that the regular Midge.
She had a new, unique head and face mold and came with Fashion Queen style molded hair and at least one wig.  I'm not sure if there were one or two wigs - as I always see this doll with the two wigs pictured here.   But it could be the same one, with one of them being pulled back.
She came with a blue headband (just like Fashion Queen Barbie) and wearing the same swimsuit as red head Midge - yellow top with orange bottoms.
She had the same body as Straight Leg Midge and came with a Midge pedestal stand.
---
Here are the current listings: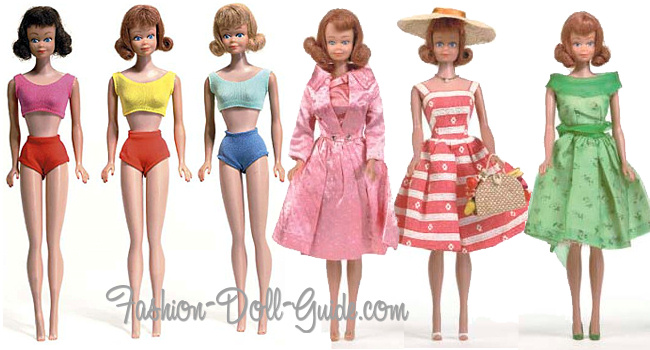 ---